Channel 4 enlists Jonathan Glazer and Neville Brody to breathe fresh air on its branding.
UK broadcaster, Channel 4, has ditched its signature '4' logo which has been its focal point for the last 33 years - created in its distinctive colourful nine blocks by designer Martin Lambie-Nairn for the channel's launch in 1982. 
Introduced a decade after its last major rebrand, the new design smashes the channel's famous symbol into pieces and includes a series of short narrative film idents created by Jonathan Glazer – famous for his commercials (Guinness "Surf", Stell Artois "Ice Skating Priests", Levi's "Odyssey") and arthouse sci-fi film Under The Skin. Mica Levi, aka Micachu, of Micachu and The Shapes, (Under the Skin) composed the music to Glazer's abstract idents.
4Creative, the broadcaster's award-winning in-house creative agency, is behind the innovative concept of the refreshed identity alongside creative agency DBLG.
"Most TV branding these days is like watching wallpaper. It's pleasant but gets boring very quickly. However, Channel 4 is much more than just a big shiny number and some nice vibes," say Heads of 4Creative Chris Bovill and John Allison.
"We didn't want to tell people what channel they're watching. We wanted to tell them why they're watching it the first place. They watch because Channel 4 stands for something important. We wanted the new branding to reflect this.
We started with the original, iconic Lambie Nairn 4 logo and broke it down into its constituent parts; the nine blocks. The blocks represent Channel 4's incredibly diverse qualities. The blocks are free to demonstrate our remit; to be irreverent, innovative, alternative and challenging. They are free to flow through everything on the channel: our typeface, on-screen menus, on-screen graphics, off-air logo, Channel 4 News, Channel 4 Racing, all the way through to the idents.
"The idents present the blocks as kryptonite-like. They tell the story of their origin and how they have a powerful impact on the world around them. Just as Channel 4 does. It is a story that we shall build on. It's been an incredible honour to work on such a loved brand, a brand very close to our hearts. Hopefully we haven't let the viewers down."
The full 4 logo will be retained for Channel 4's off-air promotion, which will incorporate a new typeface created by the graphic designer Neville Brody. Brody was commissioned to cut two exclusive new typefaces for Channel 4 display and information, named Horseferry and Chadwick. 
"I have always loved and respected the pioneering and influential brand design that Martin Lambie-Nairn created," says Brody. "Having followed the growth and evolution of the channel from its birth and position as a vital rebellious independent cultural space, a place it has been loyal to, and strengthened even more over time, I am proud to have been involved in helping to develop the new visual language for the channel to help take it forward for the next decade."
The rebrand has been worked on over three years, arriving at a time of speculation around whether the channel will be privatised, serving as a reminder of the bold, creative decisions that run through the channel's history.
"We decided early on that we didn't want to mess with the logo but instead find different ways to present it on air," says DBLG Creative Director, Grant Gilbert.
"The OSP and opticals aren't just promos with a logo tacked on the end; they are the channel. These elements that play out dozens of times every day are now free to be playful, surprising, dynamic and ever changing. We have created an identity for Channel4 that has longevity and will evolve and express itself in different ways."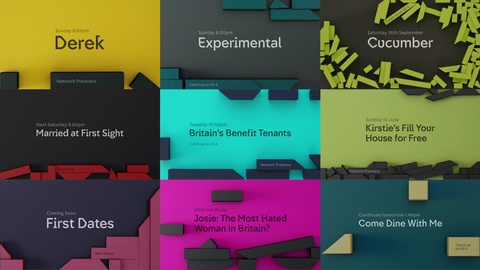 5 October 2015
Shop our print magazine and 200 Best book series to discover the finest in visual, TV and digital advertising: Subscribe now
You might like:
Oscar-nominated director Adam Pesapane works his magic for Honda 
Ben Charles Edwards directs a stylish short film for fashion label FrostFrench