El Jimador's "The Collaboration" rocks the wild side of life with a social experiment including the likes of fire sculptors and guerrilla artists.
Brown-Forman's tequila brand El Jimador has released an online film celebrating "Mexology" - the Mexican spirit of enjoying life as it comes.
The film documents a social experiment and is part of the brand's "Our Spirit Unites Us" campaign. London creative agency, Brave, recruited four talented artists: a duo specialised in creating artistic projections, a metal sculptor and a classically trained musician turned techno DJ. 
Ryan Doyle
They were challenged to collaborate on the creation of an epic event, in the legendary Michigan Building, an abandoned theatre in Detroit. The artists were tasked to do this without a script, or a storyline, and within 48 hours, with the idea of bringing the town's spirited communities together.
The spot is shot in docu-style and the result is an unforgettable and beautifully orchestrated experience, which shows the transformation of the derelict building into a vibrant, beautiful space. There's even exclusively composed music, epic projection mapping and a flame-thrower-organ.
The campaign film was crafted alongside Unit9 and is the centrepiece of an online web series. Accompanying films let you follow the stories of the individual artists. Viewers can discover hidden Detroit with fire sculptor Ryan Doyle, as he transforms reclaimed materials in to a world first. DJ Carolina Limón's video lets you follow the musician's journey from classical pianist to pioneering techno DJ in the Mexicali music scene and finally to The Collaboration.
Dawn of Man tell their story through projection mapping and use it to bring the film to life.
"Twenty-thousand lumens? Michigan Building? You don't get a chance to project on a piece of architecture like this every day," says the New York City based digital arts collective during the making of.
Dawn of Man
"The main challenge will be just taking the content that we've developed for this surface and meshworking it into place. We have different kinds of visuals to pick out parts of the architecture along with the tempo of the beat."
Their projection work has been commissioned by the likes of the Museum of Modern Art, the New World Symphony, Sony Playstation, Calvin Klein, and LiveNation.
"To connect to our non-linear millennial audience, we celebrated both individual inspiration and the power of communal creativity," says Brave.
"It's not every day you can say you've been pulled over by the police for riding a fire-breathing dragon on the open road before breakfast.
"But our latest global campaign for el Jimador Tequila was never going to be your average shoot."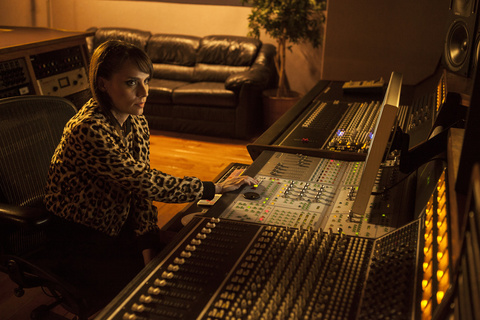 DJ Carolina Limón
Previous films which are part of the Mexology project include "Mix with the locals" from 2012.
25 May 2015
Visit our new shop and discover the finest campaigns from print, TV and digital: Subscribe now
You might like: