Most creatives will have recovered from Cannes by now, so it's a good time to revisit some of the seminars with ten favourite quotes.
Photo: Ella Pellegrini
"Be willing to get fired for a good idea. That's what the world needs."
Oscar-winning director Spike Jonze started out by directing the Beastie Boys' music videos. He shared a lesson he learned from the group: "It's easy for me to say. I don't have to pay your mortgage. But it's about finding people who are not scared."
"What I learned from the Beastie Boys was to be independent," said Jonze. "They set up their own world separate from the label."
"If we don't create something that has an emotional connection, what's the f***ing point?"
David Droga founded Droga5 in New York in 2006 and is one of the most awarded individuals in the history of Cannes Lions. He took the stage with Bartle Bogle Hegarty's John Hegarty to nail the real issues facing the industry today. Let's hope their mums weren't in the audience - they were pretty sweary!
"Simply sitting on a bean bag doesn't automatically make you creative."
John Hegarty addressed an applauding audience who have pretty much spent the entire week doing just that.
"This is the first time Lord Voldemort and Harry Potter are on stage together."
Photo: Rhia Chohan
The Guardian's editor-in-chief, Alan Rusbridger decided to beat everyone else to cracking the joke when he arrived on stage to with Ralph Fiennes. During the interview, the BAFTA-winning actor attacked homophobia in Russia and opened up to Rusbridger about the conflicting issue of privacy.
"You're like a crack-addicted lab monkey just pushing the little button for another hit of something that feels good."
Photo: Rhia Chohan
Game of Thrones' David Benioff and D. B. Weiss were in conversation with Veep and The Thick of It creator, Armando Iannucci. Benioff's remarks were part of an explanation as to why they prefer to keep social media out of the creative process, despite a desire to engage with fans: "At the end of the day you end up spending time on that when you should be spending time on your actual job."
I always tell writers, write what makes you laugh, not what you think will make someone else laugh because that's when you write your best stuff."
Armando Iannucci on the subject of audience as a huge factor when creating a product intended for mass consumption. But to what extent should a writer think of the audience when writing? He said you become more aware of the audience as you come back for more seasons and aware of what people would like to see more of. However, Iannucci urged writers to write for themselves.
"I treat everybody equally. I treat everybody like shit."
Joe Pytka on how Michael Jordan arriving on set two hours late wasn't going to wash with him. The legendary commercials director was honoured with the Lion of St. Mark and has a bit of a reputation for being… frank.
"Think like a marketer. Behave like an entertainer. Move like a tech startup."
Pereira & O'Dell co-founder PJ Pereira joined Fuseproject Founder Yves Behar and Behance's Scott Belsky for Adobe's The New Creatives seminar, which explored how today's creatives must re-invent themselves in an ever-changing landscape of media, technology and disciplines.
"You can't resuscitate a stinking pile of yak turd - and god knows you've tried."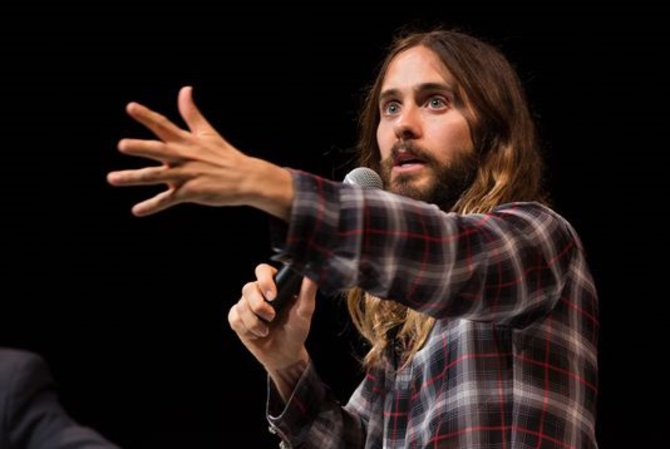 Photo: Richard Bord
Oscar-winning Actor as well as musician and director, Jared Leto, was met by cheers and whoops as he was frank with the audience about ads and the internet:  "Advertising can't save the internet, the world and certainly not your brand. First of all, you have to make something great."
His general consensus on advertising was: "Tell me the truth! Make my life more interesting or leave me the f*** alone."
"We are the creatives with teeth. We know ideas are more important than our personal wellbeing."
Photo: Rhia Chohan
I could have left you with Kanyisms such as this and this, but Kanye West was really well behaved and let people finish talking in this seminar with Translation CEO Steve Stoute and Andreessen Horowitz co-founder, Ben Horowitz.
So we'll give him a break. The conversation touched upon Samsung, Apple, hip hop as a brand and how millennials helped vote in Obama.
30 June 2014
Visit our new shop and discover the finest campaigns from print, TV and digital: Subscribe now 
You might like: