A new spot for Lexus is a striking visual display of an illuminated man's journey across a city at night.
This is a pretty cool ad from Chi & Partners, Stink and MPC for Lexus - and it's even made it as our Spot of the Week. Directed by Adam Berg, the ad was filmed over seven nights for the car maker.
To create the illusion of one man running seamlessly across a city skyline, Lexus joined forces with a huge team of expert riggers and engineers from around the world and suspended them across the Malaysian capital.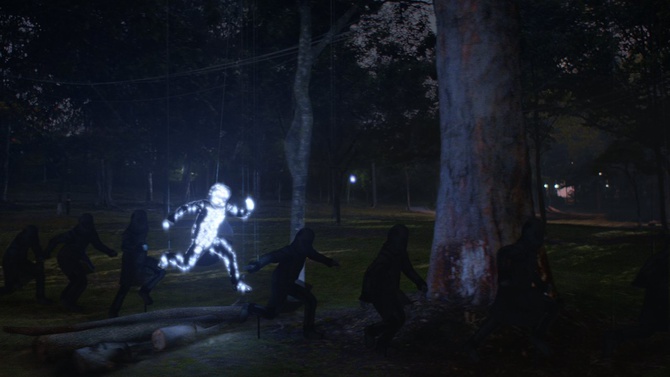 Stunt men and acrobats were hung from wires from erected scaffolding and wore LED light suits to play out the dazzling path of one man across the Kuala Lumpur nightscape.
Hollywood costume designer Vin Burnham and technical director Adam Wright took design cues from Lexus vehicles - including the iconic spindle grille and LED headlights – to create the bespoke suits that were used in the film.
The lightsuits, which took six weeks to build and featured 1,680 computer-controlled bulbs, were linked up to a purpose built computer system and complex DMX software was created to wirelessly trigger the suits to strobe on demand, producing the incredible display seen in the film.
"Strobe" is the third in the "Amazing in Motion" project series by Lexus, described as "a set of ambitious projects that explore the complexity and beauty of motion through film, photography and technology".
The ad's soundtrack was provided by Computer Magic, the electronic music solo-project of New York producer and DJ Danielle "Danz" Johnson. Lexus chose the track, 'Running', for the way it "effortlessly complements the sequence of the Lightmen, accentuating the flow of movement, while the lyrics support the narrative of the Lightman running through the city at night".
Technically, Strobe pushed everyone involved to the limit," says Lead Technical Director, Adam Wright, who is a world-renowned animatronics and special effects designer working in TV, film and fashion.
Strobe is the third in a series of projects CHI & Partners has created to reflect Lexus' "Amazing in Motion" engineering. It follows "Steps", an iconic choreographed stunt using 11-foot tall puppets, and "Swarm" which featured footage of a real swarm of quadcopter robots exploring downtown Vancouver at night.
The videos below take you behind the scenes of the shoot.
11 August 2014
Visit our new shop and discover the finest campaigns from print, TV and digital: Subscribe now 
You might like: