Take a look at these ad offerings from the Thai ad world. One has a twist that you won't expect and the other is a heartfelt film about self-reflection.
It's nothing new that Thai ads are known for milking a tear or two from viewers, with their emotional, heartfelt long-form spots. This spot for Tesco Lotus is about a Thai taxi driver, touching on relatable issues. But it's not what you would expect.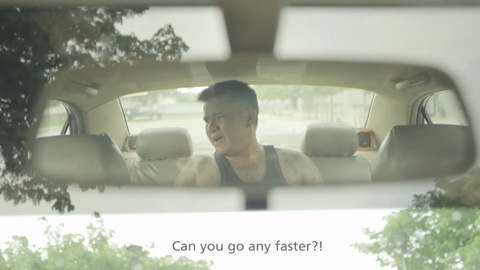 In the two-minute ad, we see what this Bangkok taxi driver has to put up with: rude and customers, fare-dodgers who make a run for it, bikes speeding past and damaging the side mirror, and even a drunk girl who throws up in the back of the car. We won't give the twist away, but the ad was created by Leo Burnett Thailand. We are struggling with the connection to the Tesco Lotus brand, though. Any ideas?
Keeping with the Thai theme - you probably remember Ogilvy & Mather Bangkok's Thai Life Insurance ad "Street Concert" from last year which has, to date, around 7.2 million YouTube hits.
Their recent film is dedicated to the 88th birthday of King Bhumibol Adulyadej (Rama IX), Thailand's longest reigning monarch and the world's longest-serving current head of state. To give you some context, the King is revered and respected by most Thais (there's even a controversial lèse majesté law), and his birthday is marked annually with some form of event or commemoration.
In the spot, a designer puts his heart and soul into creating the perfect t-shirt commemorating his love for "Father" - as the monarch is also known. He starts with the obvious "We Love The King" before stepping back and looking deeper into the message at the word "we".
The ad takes archive footage of the monarch's greatest moments in history (public appearances by him are now rare) and juxtaposes them with less noble actions by Thais, like public drunkenness and pollution. Inspired by memories of the monarch, the designer has a lightbulb moment,which leads him to doing good deeds for others. The designer also comes up with his final t-shirt concept. It's definitely a patriotic, contextual ad aimed at Thais, but also a moving film about self-reflection.
UPDATE: We've since learned that the Tesco Lotus ad marks Mother's Day in Thailand which falls on 9 August.
3 August 2015
Visit our new shop and discover the finest campaigns from print, TV and digital: Subscribe now
You might like: