Sport England has teamed up with FCB Inferno to encourage women to take up sport and exercise.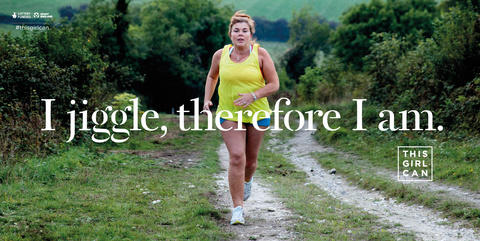 A woman in a bikini and swimming cap is seen from behind walking out of a changing room, heading with determination for a pool. As she goes, she slides two fingers under each side of her bikini bottoms, snapping them straight across her behind. Set to the punchy beat of Missy Elliot's "Get Your Freak On", this 90-second spot with attitude features normal women – not models – giving it their all.
The real women featured in the "This Girl Can" ad, directed by Cannes winning Kim Gehri, issue personal mantras such as "Damn Right I Look Hot", "Sweating like a pig, feeling like a fox" and "I Kick Balls, Deal With It".
Sport England began work on the campaign after looking at research by universities and sports organisations, which found a "significant gender gap" between the participation of men and women in sport and exercise.
"I believe we can tackle this gap, because our research shows that 75% of women would like to do more," says Sport England CEO, Jennie Price.
"Before we began this campaign, we looked very carefully at what women were saying about why they felt sport and exercise was not for them. Some of the issues, like time and cost, were familiar, but one of the strongest themes was a fear of judgement.
"Worries about being judged for being the wrong size, not fit enough and not skilled enough came up time and again."
The idea behind the campaign was to liberate women from these judgements that hold them back by making their self-confidence greater than the fear of being judged.
"In order to change both feelings and behaviour, we needed to spark a realisation in our audience that they were not alone in feeling judged," says FCB Inferno.
"It was important to inspire them with the confidence needed to push through their fear of judgement, and finally support them with inspiration on a range of activities."
The campaign has also rolled out online with a 'Feel Inspired' page that pulls in live feeds from online articles and social channels, while 'Meet The Girls' hosts films to inspire and 'Discover' page shows exercises as inspiration to get going.
"Social channels engage followers and we proactively searched for people to encourage and inspire them.
"This Girl Can celebrates active women everywhere, in a way that no other Government or sporting campaign has done before. Featuring confident, active, relatable girls and women from across the country, we created a series of conversation-starting online films to tell their individual stories and how they overcame the barriers our audience face."
To create a local, personal touch, FCB Inferno ensured that the hometown of each girl featured in execution of the mantra-celebrating posters and digital. 
19 January 2015
Visit our new shop and discover the finest campaigns from print, TV and digital: Subscribe now
You might like: