Apple continues its "Your Verse" storytelling campaign with two new stories to show how people are using iPads to support their passions.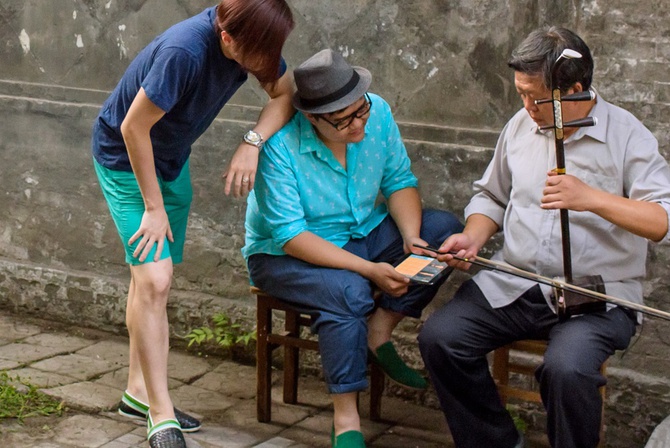 In one of the 60 second ads, we see the story of how Beijing-based electropop musicians, Luke Wang and Peter Feng, of Yaoband came together to explore new musical frontiers, using the iPad to helps them capture, record, and perform their innovative music.
Long before the duo played together they produced tracks for some of China's biggest artists. While professionally successful, they felt their creative vision was stifled. "We wanted to bring a new kind of music to Chinese music fans," says Luke Wang. So they formed Yaoband to explore this new sound.
"Inspired by the pulse of life in modern China, they started by capturing audio samples with iPad and turning them into progressive beats," explains the Your Verse site. "Nothing was sacred as they flowed in and out of musical genres, mixing electronica with rock, rap, and traditional Chinese songs."
Peter Feng adds: "We were just like scientists in a lab, trying many formulas. Every single song was a surprise, because it was always better than I imagined."
No longer tied to the studio, the two musicians use the iPad to explore new jam device to device. Your Verse demonstrates how the musicians utilise the Music Studio app to lay down the melody and try experiment with instrumentations.
The second new spot is about Jason Hall, cofounder of the Slow Roll city bike ride, which inspires thousands of people to witness the revitalisation of Detroit from ground level.
Population decline, abandoned buildings and decades of hard times: that's how the world sees Detroit, a legendary American city struggling to survive. However, Jason's movement is helping people reconnect with the place they call home.
"I was feeling a bit beaten down by this city," he says. But everything changed when a friend suggested he do the simplest thing: Take a bike ride to clear his head. "I got out and started to see Detroit in a different way," he says. "On the ground level, you see the potential that exists. The city's wide open for new ideas."
After that eye-opening ride, Jason had an idea of his own. "I wanted to convince other people to see Detroit the way I was seeing it," he says. "The plan was, let's start a bike ride and see if people want to go with us."
It began with just 10 friends ona Monday night ride, with numbers increasing. In its second year, the ride grew from 130 to 300 cyclists in two weeks. As the numbers increased, Jason turned to his iPad and made it the command centre for all things Slow Roll. "We use it for everything we do, from mapping to communicating to ordering new T-shirts," he says.
He attributes the growth of Slow Roll to the digital flyers he designs and posts to Facebook with the Phoster app. "Within a week of posting, we saw turnout numbers jump," he says.
Jason also uses Penultimate to jot down ideas and sketch out routes to share with his team and keeps in contact with his squad using the Zello Walkie Talkie app on iPhone.
The campaign was kicked off by TBWA\Media Arts Lab in January 2014 the television spot, was set to powerful verses from Dead Poets Society spoken by the late Robin Williams as Professor John Keating.
18 August 2014
Visit our new shop and discover the finest campaigns from print, TV and digital: Subscribe now 
You might like: