French Connection has teamed up with celebrity photographer Rankin to create an ad campaign that features naked models.
Clothing brand French Connection's first campaign with photographer Rankin's in-house agency, Full Service, features sketches of its designs superimposed onto naked models.
"From Sketch to Store" promotes the retailer's Autumn/Winter 2013 range and was written by Vicky Lawton and art directed by Callum Crease. Illustrator Jo Bird layered sketches onto Rankin's photographs of the models.
"I've always admired the brand for striving to push boundaries, and for their fearless approach to captivating campaign concepts," says Rankin.
"I hope the 'From Sketch to Store' execution by The Full Service continues their history of standout campaigns."
It is French Connection's first black and white marketing campaign.
"The sketch to store campaign really brings out the fearless nature of the brand and our design credibility but with a twist," says French Connection marketing director, Jennifer Roebuck.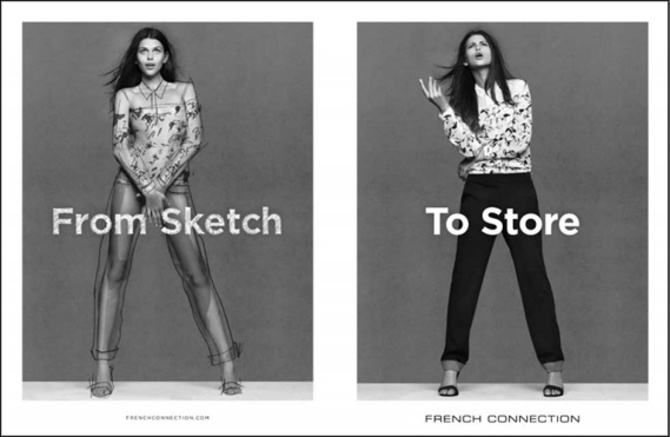 "When you look back at the iconic FCUK campaigns you can also see the fearless attitude and that is part of the brand and our design philosophy. I would say it is different than what we have produced with other creative partners over the past two to three years, but is in keeping with our overall brand DNA. "