Greenpeace's parody video "Everything is NOT Awesome" is part of a campaign to bring to an end Lego's brand partnership with oil company Shell.
London agency, Don't Panic, have created the video which is set to a slightly darker version by Alex Baranowski and Sophie Blackburn of 'Everything is Awesome' from The Lego Movie soundtrack.
Directed by Martin Stirling of Unit9, the spot sees an idyllic Arctic scene, complete with polar bears, huskies and pups, taking a dark turn as it is flooded with black oil – engulfing all people, animals and nature in its path. You even see Game of Thrones' Jon Snow up to his neck in the thick, dark substance.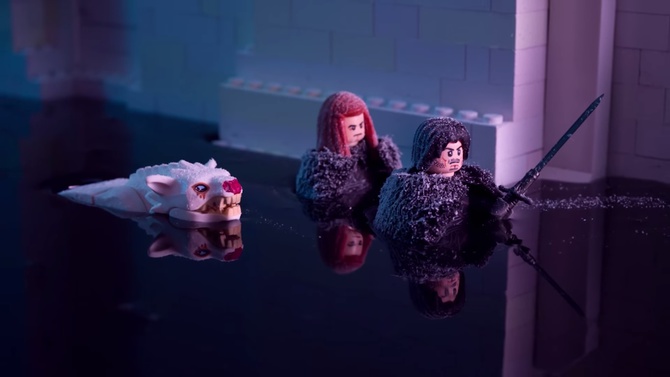 "We love Lego. You love Lego. Everyone loves Lego," says Greenpeace about the video.
"But when Lego's halo effect is being used to sell propaganda to children, especially by an unethical corporation who are busy destroying the natural world our children will inherit, we have to do something.
"Children's imaginations are an unspoilt wilderness. Help us stop Shell polluting them by telling Lego to stop selling Shell-branded bricks and kits today."
Viewers are prompted to a petition encouraging Lego to "dump Shell".
Lego has already responded to the video with a statement, which you can read in full here. In it, Lego's CEO and president Jørgen Vig Knudstorp says: "The Greenpeace campaign focuses on how Shell operates in a specific part of the world.
"We firmly believe that this matter must be handled between Shell and Greenpeace. We are saddened when the Lego brand is used as a tool in any dispute between organisations.
"We expect that Shell lives up to their responsibilities wherever they operate and take appropriate action to any potential claims should this not be the case. I would like to clarify that we intend to live up to the long term contract with Shell, which we entered into in 2011."
"LEGO, the biggest toy company in the world, has built its brand on its continued promise of leaving a better world for children. And by teaming up with Shell it's letting kids down," says Greenpeace's Ian Duff.
"Global warming is perhaps the biggest threat facing all children around the world, and protecting the Arctic is about protecting the climate. By letting Shell get its oily hands on kids' toys, LEGO is allowing Shell to pretend it's a caring, family friendly company and helping it to get away with its Arctic aggression.
"And children love the Arctic and its unique wildlife like polar bears, narwhals and walruses that are completely dependent on the Arctic sea ice. They wouldn't want to see them threatened.
"Their deal is also helping Shell to flog more of its dirty oil, build trust with its customers, and even exploit kids' love of their toys to build life-long loyalty it just doesn't deserve."
Update, 9 October 2014:  Lego will not renew its marketing deal with Shell after Greenpeace published the video criticising the toymaker for its association with the oil company. 
15 July 2014
Visit our new shop and discover the finest campaigns from print, TV and digital: Subscribe now 
You might like: