Is this the creepiest newspaper ad ever? Saatchi & Saatchi Stockholm engineer devilish stunt for ELMSTA 3000 Horror Festival.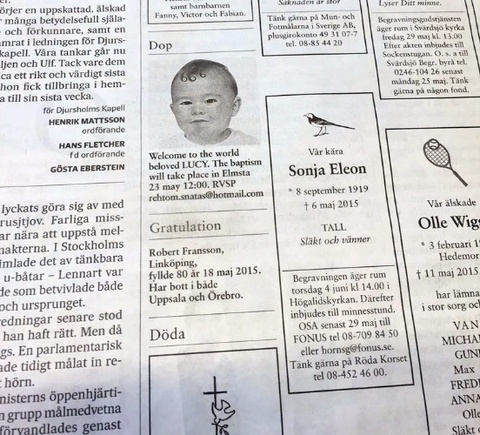 Motivated by coming up with a novel way of encouraging RSVPs to Swedish Horror Fest ELMSTA 3000, Saatchi & Saatchi Stockholm placed a small ad in the classified family section of a local morning newspaper.  The seemingly innocent ad had a satanic twist and went viral, according to Saatchi & Saatchi, being featured in newspapers such as the UK's Metro.
The newspaper ad features a – probably because of the context – slightly creepy looking baby, with text reading "Welcome to the world beloved LUCY. The baptism will take place in Elmsta 23 May 12:00" followed by an email address where people can RSVP.
"From the first moment we saw little 'Lucy' in the family section of the newspaper, we knew that it was going to be an instant classic," says Roger Glassel, ELMSTA 3000 Festival Manager.
"In the following days, as 'Lucy' went viral and the worldwide reaction grew, its success was even more than we had anticipated and hoped for. This one will surely stay in the viral grapevine for a long time to come and the festival will be remembered for an advertising campaign that was both controversial and fun.  Just as we wanted."
The newspaper ad had little clues. Besides looking a bit creepy, the baby's seemingly innocent curls resemble the outline of three number sixes - pointing to lore that connects the number with El Diablo himself. The Hotmail email address provided also began "rehtom.snatas" which of course reads 'Satan's Mother' backwards. She's of course called Lucy - Lucifer's female counterpart.
"We have worked with this client for eight years and every year we try to push the work a little further," says Gustav Egerstedt, Saatchi & Saatchi Stockholm Executive Creative Director.
"The festival's yearly theme is always part of the brief and this year's theme 'Evil kids', was rich territory. It quickly led us to a bunch of strong and scary ideas. But in the end the little baptism ad was without doubt the most interesting one. We were also intrigued with the media strategy coming with it and knew we had to see it through."
22 September 2015
Shop our print magazine and 200 Best book series to discover the finest in visual, TV and digital advertising: Subscribe now
You might like: