Vangardist Magazine makes bold publishing move and confronts HIV+ 'head-on' with blood-infused ink.
Lürzer's Archive, with its publishing past, knows all too well about making bold and controversial editorial decisions. But kudos to men's magazine Vangardist who has confronted the social stigma around HIV in an unflinching way.
Vangardist worked with Saatchi & Saatchi Switzerland to unveil a new campaign printing 3,000 limited edition copies of the issue with blood-infused ink. Each copy of the magazine's Spring issue is printed with ink infused with HIV+ blood that has been donated by three individuals living with the HIV virus: Wiltrud, a mother; Wyndham, a homosexual man; and Philipp, a heterosexual man who prefered to stay anonymous and use a pseudonym. 
The edition is dedicated to celebrating "HIV Heroes" – people who live with or talk about the disease publicly, and support others who are HIV+ and features a text-only cover in contrast to the magazine's usual cover image of a model.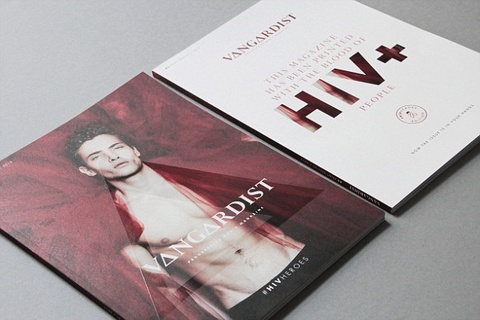 Saatchi & Saatchi explains that the magazine has been produced according to the most stringent controls "using processes developed according to guidelines established by Harvard and Innsbruck University, ensuring that the handling of a physical copy of the magazines carries no risk of infection, and is 100% safe".
The Vangardist team used the Donau Forum Druck printing house, which produced their first edition in 2013. They reached out to additional printers but the magazine says no-one else was willing to do the project.
The donated blood was sterilised and tested at the university lab before being mixed into the printing press ink at a ratio of 28 parts ink to one part blood. The issue was produced using a standard offset printer with recycled CO2-neutral paper stock.
"When Vangardist asked to mix my blood with the ink used to print their magazine, I thought they were crazy," says Wyndham Mead, who donated his blood for the project. "But we did it. And here it is."
"Breaking the seal of the magazine and 'holding' my (and two other people's) HIV+ blood is a symbol of acceptance and love. Let's use this to ignite new conversations, fight stigma and be HIV Heroes."
The 26-year old's story, as well as those of the other two donors, appears in the issue of the magazine.
 "This is truly a 'Nothing Is Impossible' story - one we have been passionate about for a long time," says Jason Romeyko, Executive Creative Director of Saatchi & Saatchi Switzerland.
"When Vangardist approached us to help them raise awareness of this important cause around Life Ball in Vienna, we knew we had met a brave client. With this unique project, we want to create a response in a heartbeat by transforming the media into the very root of the stigma itself - by printing every word, line, picture and page of the magazine with blood from HIV+ people. By holding the issue, readers are immediately breaking the taboo."
The magazine has been packaged in a sealed plastic cover, which reads: "HIV doesn't make the headlines anymore, so today we put it in every word, line and picture. Touching this magazine can't harm you, but we hope it will start a conversation because HIV and the shame around it need to be talked about much more than they are right now. Break the seal and help break the stigma." There is also a disclaimer on the back.
"We wanted to create a moral dilemma out of it," explains Romeyko. "So if you were ignorant about how HIV is transmitted you might not rip open the seal. It might be fear or also indifference. But if you were educated, you knew it must be safe - just like touching an HIV positive person is also safe, so you open it and break the taboo.
"The biggest challenges were legal ones. Everyone told us no. We shouldn't do it. Not because it would be physically unsafe, but because there are some people who may be so emotionally distressed from it, it could bring problems. Hence the disclaimer on the back of the wrapper."
The campaign coincides with Life Ball, which is one of the biggest AIDS charity events in the world that takes place every year in Vangardist's home town of Vienna. Life Ball will take place on 16 May inside Vienna City Hall and will draw attention to the medical and social consequences of HIV and AIDS in order to raise vital funds for the projects supported by the organisation, AIDS LIFE.
"We believe that as a lifestyle magazine it is our responsibility to address the issues shaping society today, " says Julian Wiehl, Publisher and CEO of Vangardist.
"With 80% more confirmed cases of HIV being recorded in 2013 than 10 years previously, and an estimated 50% of HIV cases being detected late due to lack of testing caused by social stigma associated with the virus. This felt like a very relevant issue for us to focus on not just editorially but also from a broader communications stand point."  
12 May 2015
Visit our new shop and discover the finest campaigns from print, TV and digital: Subscribe now
You might like: