The Swedish Childhood Cancer Foundation is using a billboard idea to show the reality faced every day by young people with cancer.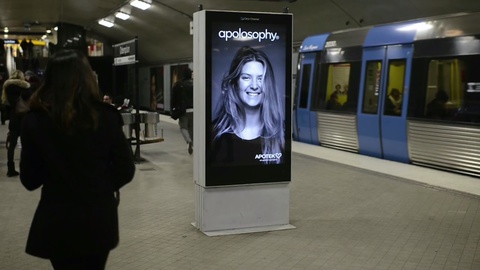 Stockholm agency Garbergs took on the pro-bono project, which is based on a playful digital billboard from earlier this year. The original ad, which was in a Swedish subway, got a lot of online attention by showing a woman's hair blowing in the gust created every time a train arrived on the platform.
The responsive ad was rigged up to recognise when trains entered the station, showing the model's hair blowing around in a windswept fashion, as if caused by the train. Ad agency Akestam Holst and production company Stopp produced the ad for Apotek Hjärtat's Apolosophy products.
Roll on to Autumn, and The Swedish Childhood Cancer Foundation has borrowed the idea to show the reality faced every day by young people with cancer. The digital billboard encourages commuters to donate to the foundation.
Stopp in Stockholm says the ad was scheduled to be just a one-day stunt. But out-of-home advertisers Clear Channel loved it so much that they kept it live for five more days "as a way for them to show the opportunities their screens can offer."
"The mission was to capture the effect of the turbulence from the train and make it look like the models hair on the screen was caught by the breeze," explains integrated production company Stopp.
"To do this we needed to build a device that could be calibrated to sense the arrival of the train and not react to passing passengers. Using an ultra sonic sensor, connected to a Raspberry Pi and a local network socket, we connected our device to the screens computer where the film could be activated by the passing trains."
Stopp managed the shooting and post production of all video material used for the customised screen at Odenplan and all other Play screens around the subway.
"A simple idea, well executed, that let us use existing technology in a new way. The installation was appreciated by the head of Clear Channel and as a result Apotek Hjärtat was offered to keep it live for five additional days, as a way for them to show the opportunities their screens can offer."
6 November 2014
Visit our new shop and discover the finest campaigns from print, TV and digital: Subscribe now
You might like: