'Cars That Feel' - was an interactive art installation that transformed three ordinary Toyota Prius cars into sentient beings which respond emotionally to human interaction. Find out how Soap Creative did it.
VIVID Sydney is a unique annual event of light & ideas that happens all around Sydney's CBD. It's Sydney's largest tourism event attracting over 1,400,000 visitors. Soap Creative was chosen as one of the 50 artists to create a light installation. Their piece the "Cars That Feel" was created in collaboration with Toyota to showcase the entire Prius range.
"Cars That Feel explores anthropomorphism, and the relationship we can have with inanimate objects," explained Soap Creative.
"This piece was born of the idea that people strive to look for human qualities in things, and will behave differently if that thing is perceived to be "alive". What if cars had feelings? What would you say to one? How would you react? We wanted people to have an emotional one on one connection to the cars not just stand back and watch."
Soap Creative's first challenge was to project video onto every window in a car. They also had to create an invisible system which would allow a person to interact with the car through touch, voice and movement.
"A keyboard or microphone would have ruined the illusion we wanted to create. We'd also need to do this without altering the cars in any way. The cars would need to be resold at a later date so large mechanical or technical alterations couldn't be done."
The invisible interaction with people and the cars was probably the biggest and simplest innovation for the project. Conductive paint, Kinect, pressure sensors were all discussed before the creative team realised they could just treat the cars like puppets; or the "Wizard of Oz" effect. Creatively, the team were inspired by Japanese culture, giving a nod to Toyota's heritage.
"Operators will use tablets to control the cars as 'puppets' by selecting the appropriate emotional response and controlling the eyes of the car. They'd stand a few meters back and mingle with the crowd. The effect allowed us to give the cars a technically "human" response to whatever people threw at the car."
People hugged, kissed and tickling the cars over the Vivid event.
"The amount of smiles from people young and old made us feel like Walt Disney," said Soap Creative. Each car was controlled by a single operator.
"We estimate around 50,000 people directly interacted with the cars delivering 1.8 million interactions during the event. The cars received so many hugs, kisses and tickles each night that we had to get them cleaned daily. A further 200,000 people saw the cars on location right under the iconic Sydney Harbour Bridge."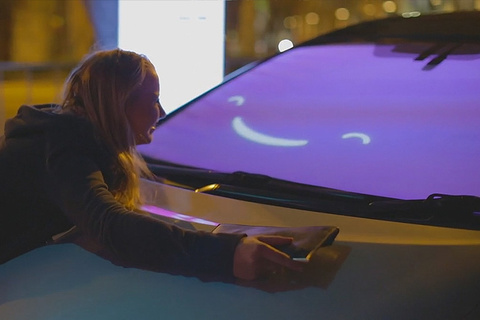 9 April 2015 
Visit our new shop and discover the finest campaigns from print, TV and digital: Subscribe now
You might like: