Beginning as a seeming web malfunction from another dimension, the "Glitch" experience suddenly lands on an interactive video showcasing MCM's Autumn/Winter collection, humorously emanating from the model's head.
The interactive film, website takeover and product showcase for the luxury German luxury brand MCM shows glitches as not only a good thing – bit functional and beautiful.
To start the viewer simply logs on to the MCM website upon which the site appears to get 'hacked'. Moments later the user is met with a beautiful and mysterious model's face who prompts the viewer to touch it.
Unique symbols in place of the normal web cursor direct the user to six engaging unique video outcomes showcasing key MCM products that appear in unexpected and humorous ways from within the girls head.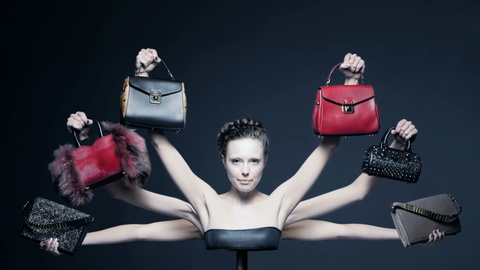 Click the model's face and you will see bags appearing from her ears, her forehead collapsing into large pixels to reveal totes and her mouth expanding to reveal another model sporting a rucksack from the collection.
The website was created by Swell Labs and Swell New York and directed by Tarik Malak & Timothy Douglas, who are also known as Tn'T.
The experience uses HTML5 technology and there are clearly inspirations taken from Monty Python, Jean-Paul Goude, Magritte and Fritz Lang's Metropolis.
Swell and Tn'T's other work for fashion brands include Hermès "Catch the Shoe", which showcased the shoe collection the luxury brand also makes. 
The interactive and shoppable unit lived both on the Hermès website and within a Lightbox Unit that could be shared throughout the web.
The interactive video experience featured three worlds "Equestrian," "Cabaret" and "Gift" in which animated shoes, each with a unique personality, appear and disappear behind objects prompting the the viewer to click them before they're gone.
Once caught, the viewer is treated to a short choreographed dance by a model either wearing or displaying the shoe.
17 September 2015
Shop our print magazine and 200 Best book series to discover the finest in visual, TV and digital advertising: Subscribe now
You might like: