Reebok's Fall/Winter Lookbook '14 uses interactivity and video to display the sports brand's Training, Running and Studio collections in a compelling way.
Directed by Pelle Martin and created by Diko, Reebok's immersive lookbook has been designed to portray the Reebok sports brand's "Tough Fitness" philosophy by visualising its products in active use.
Four slow-motion videos accompany each of the five main categories: Women and Men's Training, Women and Men's Running, and Studio. Users are able to interact with these videos on their desktop or mobile device, creating a truly interactive way to see every angle.
Users can grab any angle of any video with their cursor when experiencing the Lookbook on their desktop. Touchpoints appear throughout the experience, which trigger product page overlays, taking the customer directly to the shoppable site.
"We wanted to give the user complete control of the experience," says director, Pelle Martin. "They can manage the videos by swiping, tilting and dragging – and thereby explore the Lookbook at their own pace."
Users can also swipe the videos to the left or right on their mobile devices. Developers from Unit9 used accelerometers to give the additional option of controlling the videos by tilting the device itself.
"The Fall/Winter Lookbook was created as a long-living section of the current Reebok site," says Unit9. "UI design features graphic triangles to keep branding consistent with Reebok's identity."
The Lookbook was developed in CoffeeScript using AngularJS framework, localisation, advanced routing and custom view transitions.
"One of the key challenges has been keeping the loading times reasonable despite the amount of video (image sequences) content," says Tech Lead, Maciej Zasada.
And here are the technical bits for those interested in how the dynamic vignettes were filmed: Ntropic used Phantom cameras on a MILO Motion Control camera rig to create the extremely slowed—almost frozen—speed of the videos.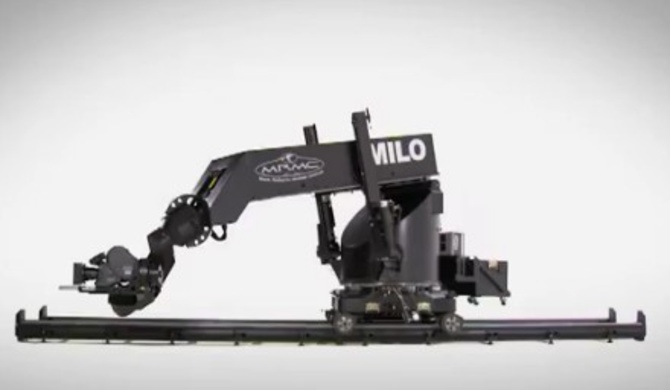 The Phantom camera shoots at an ultra-high frame rate, making it possible to capture extreme detail in just one second of filming. Adversely, the rig is capable of moving ten feet per second. The combination of using these technologies creates a dynamic panorama for each scene.