Sainsbury's festive digital campaign celebrates the storytellers that are helping raise literacy rates.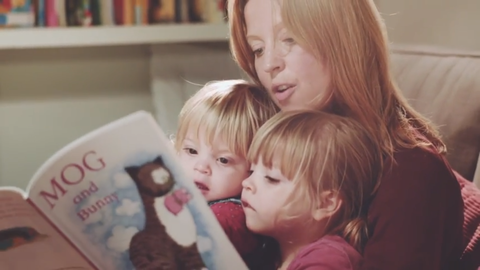 The campaign has user generated content at its heart is part of the British supermarket's "Christmas is for Sharing" campaign.
Created and produced by AnalogFolk, "The Storytellers" champions those people who help bring stories to life for children. From parents to teachers, these people ignite interest for children in stories and reading, helping to raise literacy rates.
To help bring the magical story of "Mog's Christmas Calamity" - story at the centre of Sainsbury's Christmas campaign - to life this season, the project wants the everyday storyteller to record themselves reading a part of Judith Kerr's book and submit via Sainbury's Facebook, Twitter, or Instagram feeds.
The campaign was developed in partnership with Judith's publishers HarperCollins Children's Books and follows much-loved children's book character, the disaster-prone cat, Mog – 13-years after she was killed off by creator by Judith Kerr.
The accompanying spot is over three-minutes long and tells the tale of how Mog manages to destroy a kitchen on Christmas Eve in a series of unfortunate incidents – but ends out being praised as the hero of the hour for accidentally alerting the fire brigade. Kerr herself makes a cameo as a neighbour.
The introduction spot for "The  Storytellers" reminds viewers of how special sharing a story with a child can be. Viewers are then invited to get involved by filming themselves reading an excerpt from "Mog's Christmas Calamity" and to upload the footage onto their own social media platforms.
The activity will also be activated via Sainsbury's own social media channels, where short videos will be shared based on aspects of great storytelling. The finale of "The Storytellers" will see the creation of a single film telling "Mog's Christmas Calamity" - created from user generated footage from those storytellers that have participated in the campaign. 
The campaign will help raise vital funds for Save the Children to improve child literacy across the UK, because every year, 1 in 5 children in England are leaving primary school, whilst being behind in reading, which can have huge consequences for their futures.
The campaign is designed to entertain children and families across the UK, as well as raising funds to improve children's literacy, with the book on sale in Sainsbury's stores.
Judith Kerr, HarperCollins Children's Books and Sainsbury's will donate all profits from the book and toy to Save the Children to support their literacy work, making a positive and lasting difference to children in the UK.
PHD are behind the media planning and buying to support the digital activity.
Help Sainsbury's tell their Christmas story here. Readers can take part until 12 December 2015.
3 December 2015
Shop our print magazine and 200 Best book series to discover the finest in visual, TV and digital advertising: Subscribe now
You might like: