Brands can now advertise on Instagram with 'sponsored' posts. But some big players are hacking Instagram's features to create their own campaigns in an attempt to engage with users of the image sharing platform.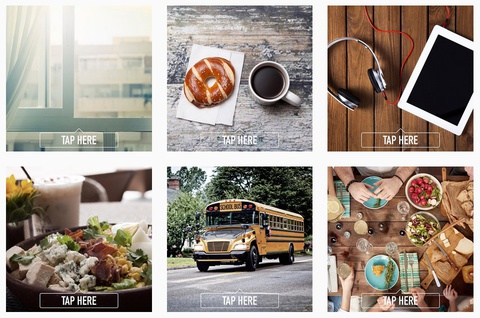 Instagram now has paid ads, so you'll have noticed those 'sponsored' images from people you don't recall following in the first place. But brands have also learned to hack into Instagram, attempting to engage with users of the visual, mobile platform.
Hyundai's latest digital campaign seems designed to appeal to those Buzzfeed style quizzes that ask you to find out which Friends character you resemble, which city you should be living in, what career you should be in, etc. Only this time, it's to find out which of the car manufacturer's SUVs you should be driving.
The campaign, by Innocean USA, takes Instagram users through a series of different choices, utilising the "Tag" feature across 18 separate Instagram accounts with nearly 400 images. Players start at Instagram handle @hyundai_quiz_start, then move gradually by answering lifestyle questions such as their favourite time of day, foods or weekend pastime.
At the end of the quiz, users can scroll horizontally to find out more about "their" Hyundai SUV: either the Santa Fe, Santa Fe Sport or the new Tucson. There's also a Twitter version for those not on Instagram. Last month we saw Old Spice hack this feature of Instagram, but with the more tongue-in-cheek approach that followers of the brand are used to. The retro themed sci-fi game "Choose your own adventure" was filled with comic book style visuals, robots, strange creatures and meta jokes.
Meanwhile, Y&R New York has created a mobile experience that makes creative use of Instagram's photo grid format to promote the recently launched Land Rover Discovery Sport. The 4x4 car maker shares its sense of adventure with immersive storytelling that takes you inside American national parks like you've never experienced before, as well as survival tips. Followers of @SolitudeInSawtooth can enjoy two fictional, audio-visual adventure stories by searching the adventures on Instagram.
The first story follows the outdoor journey of a young couple as they explore Sawtooth National Forest in Idaho. The second story, viewable on @BrotherhoodOfWonderstone, follows two brothers as they embark on an expedition through Kanab, Utah. In each experience, gorgeous landscape photos are seamlessly stitched together to form day-into-night "panoseries" (similar to panorama but with multiple photos represented) scenes.
Users can tap various tiles within each panoseries to view videos that progress the story, showcase technical off-roading knowledge (like how to properly ford a river) and learn unique survival tips, such as how to turn a leaf into a compass, or treat a wound in the wild. Professional survivalists were on set at the shoot to ensure that all demonstrations were accurate and authentic. In both journeys there are hundreds of tiles to interact with, and 20-30 films per adventure.
10 September 2015
Shop our print magazine and 200 Best book series to discover the finest in visual, TV and digital advertising: Subscribe now
You might like: