Despite being 2015, a Brazilian ad that features same-sex couples has received an online backlash. Michael Weinzettl looks back at "gay-themed" advertising from past years.
Last week we received an email from Rafael Gil of AlmapBBDO. Rafael holds the number three position in our magazine's Ranking of art directors for the past three years. He submitted the Sao Paulo agency's new commercial for O Boticário, the biggest Brazilian cosmetic company, which has 3,755 stores around the world in countries like the US, Japan and Venezuela.
The commercial which features same-sex as well as heterosexual couples is – in my jaded opinion – well made though rather tame, if not to say lame (very much in the vein of Tiffany's "Will You?" commercial from earlier this year by Ogilvy, New York.) 
Not tame enough apparently for a large part of the Brazilian population. It has so far received almost some 3.3 million YouTube hits, with 364,000 Likes against 186,000 dislikes. Brazilian organization, Bonar, the nation's council to promote self-regulation, has received numerous complaints.
The commercial started airing a week ago and immediately motivated a backlash on social networking, with lots of bloggers stating that they objected to children seeing the commercial which they called "disrespectful to society and also to the family." Many have stated that they'll not shop with O Boticário again.
I find it interesting that such a relatively innocuous spot could create a major outcry like that (not doubt mostly from the religious segments of Brazilian society) when I consider some of the "gay-themed" commercials that have been around in other parts of the Western world for many years.
The first one I distinctly remember was this British spot for a range of Hom brand men's underwear called "The Pick-Up" by Young & Rubicam, London, from 21 years ago.
The idea for this commercial may have derived from Neil Jordan's hit film "'The Crying Game" from 1992, yet adding a pleasant note of insouciance to the proceedings that is all its own. It conveyed a markedly different attitude to the subject of homosexuality/transgender/cross-dressing at the time (remember this was in the – not only in terms of LGTBQ-rights – dreary and repressive period under John Major as the UK's Prime Minister, right after the even drearier Thatcher era.
Oddly enough the most level-headed depiction of a gay couple – and of course it is a couple! – was also 1994, came from the US, from Deutsch, New York, a bold move by Ikea as part of a series of spots targeting groups from  outside society's mainstream. "Dining Room" featured what is probably the first gay couple in an American TV commercial, talking about their relationship and what it means for them buying their dining room furniture at Ikea.
In recent years of course there has been an increase in gay-themed commercials, such as "Father/Son" by McDonald's from France, in which a father discovers that his son's fling is in fact a mate from the school's soccer team.
Or perhaps the surreal "Puma" ad from Fred and Farid, Paris for the Orangina soft drink (see film still below).
Another one, again, from France is "Big Day" for the Renault Twingo from 2012. Note that it's the institution of marriage which provides the story's twist as well as the "safe harbour" from which to deal with same-sex coupling.
Diesel by DDB, Stockholmn (Archive Vol. 2/1996)
One of the more notable "gay-inclusive" commercials of recent years from the US was this spot for Honey Maid, a 90-year old company producing graham crackers.
The spot by Droga5, New York sparked a failed boycott from One Million Moms, to which Honey Maid made perhaps the best countermove ever: They printed out the hateful online comments and emails and made a giant "Love" sculpture out of them in this follow up spot.
Being a a child of the Sixties and Seventies, I find this find this generally bland representation of gays to this day somewhat  depressing – most of the gays that pop up in mainstream advertising and their relationships to each other are such a snooze! It makes me aware of how in today's consciousness the sexually liberating revolutionary aspect of the alternative lifestyles to hetero-normative domesticity has, for several reasons mostly politically motivated, all but vanished from public discourse on the subject.
But to be realistic, advertising is probably the last place to look for it. What can you expect from this industry so dependent on "Likes" of any kind than to carefully avoid the slightest traces of possibly alienating "otherness," and to embrace tepidly coupled-off mainstream-compatible representation instead?
A case in point is the Tiffany's print ad photographed by Peter Lindbergh, a pretty good indication perhaps of how far the LGBTQ community and their representation in ads have come – or, depending on your politics, how low they've sunk.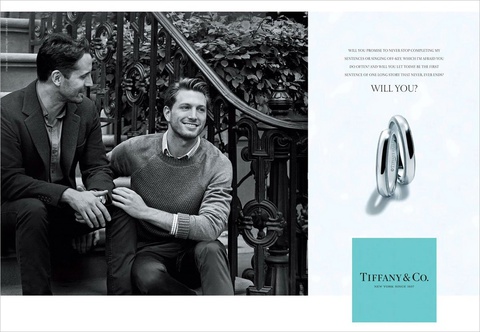 Ray-Ban by Marcel, Paris (Archive Vol. 1/2013)
12 June 2015
Visit our new shop and discover the finest campaigns from print, TV and digital: Subscribe now
You might like: