Michael Weinzettl on why Benetton's Grand Prix winning "Unhate" campaign from Cannes Lions 2012 doesn't mark any progression in creative advertising.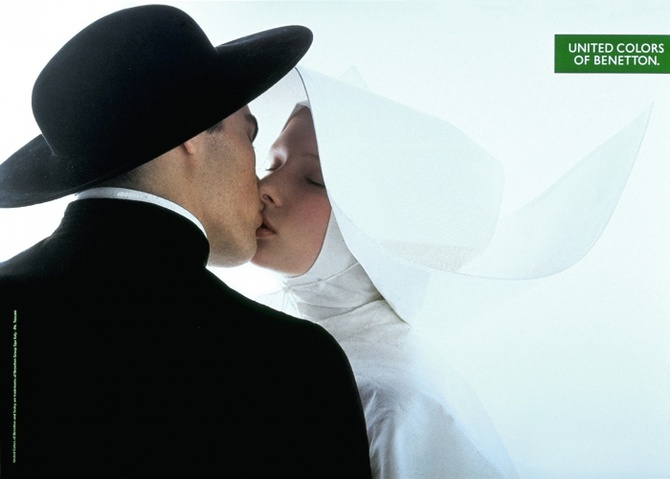 Image: Ad from a 1991 Benetton campaign by Olivero Toscani. Published in Archive Vol. 4/1991.
Now that the Cannes Lions festival is over, I had a final look at some of the Grand Prix winners.  Actually, I'm reasonably happy with all of the choices made by the respective juries.  Even more so of course since all of them have been featured in the pages of Archive months before Cannes.
With one exception: The Coke poster from Ogilvy & Mather, Shanghai, winner of the Outdoor Grand Prix and designed by 22-year-old art student Jonathan Mak Long. The fact that it first appeared in the middle of April meant that it was too late to be featured in Vol. 3/2012, the current issue of our magazine.
If there is one Grand Prix winner that I have a few reservations about, it's the Benetton "Unhate" campaign. Of course it's better than most of the advertising out there, but personally I find it borderline silly, and giving it a Gold Lion would have done it enough justice.
Benetton has been absent from "creative" advertising for over a decade now; their last communication effort – the one not simply showing models wearing the product – was the Death Row inmates campaign from 2000, while still under the creative guidance of Olivero Toscani. 
The new "Kiss" campaign produced by Benetton's in-house agency La Fabrica in the Northern Italian town of Treviso to me isn't much progression. The idea of the "unexpected" kissers has been done before even by Benetton themselves, with an image of a priest and a nun back in 1991.
World leaders kissing each other is nothing very new either. It's a staple of political cartoonists. Perhaps the most iconic kiss between politicians – and one I'm sure the creators of the people at La Fabrica were very much aware of – took place between communist leaders Erich Honecker, from East Germany, and the Soviet Union's Leonid Brezhnev, also photographed during the 30th Anniversary of the German Democratic Republic in June 1979.
Image: "Fraternal Kiss"  by Dmitri Vrubel
Living in Berlin, not a week goes by that I don't happen to drive past the remnant of the Berlin Wall that has the painted version of that "Fraternal Kiss" by Dmitri Vrubel on it. (You can also see it on postcards in just about every souvenir shop in Berlin). Its message is of course a much more dark and ironic one than what the Benetton campaign wants to convey. The painting is actually named "The Kiss of Death" and underneath, it says: "God, help me to survive this deadly love".
Yet another reason why I don't think this new campaign by Benetton marks any kind of advancement in creative advertising is that while the Benetton ads that caused so much controversy back in the early 90s partly through the disconnection of "shocking" visuals from the Benetton logo (one US media critic Leslie Savan pointed out in an interview for Vol. 6/1995 of Archive that "they break that sort of membrane that we, the consumers, have toward advertising" and "jolt our relationship to advertising itself") the Grand Prix winning campaign doesn't do much like that. 
The smaller copy puts the visual in the context of Benetton's "Unhate"' Foundation' – whatever that might be. The foundation's homepage is full of vague claims such as "it seeks to contribute to the creation of a new culture against hate, building on Benetton's underpinning values." In terms of promoting the foundation, however, the campaign doesn't seem to be working all that well, Grand Prix or not.  At the time of writing, the Unhate page on Facebook has received a total of 4,408 Likes. Not much to write home about if you ask me.
Image: Alan Weill
I wanted to know what Alain Weill, art historian, author of many books and one of the top authorities on the history of poster advertising and graphic design had to say about this year's Cannes winners in Outdoor and Print. Having been, for more than 15 years, a member of the jury at the Epica where he acts as President of the Jury, I have come to cherish his pithy comments about the ads on show there. This is what he e-mailed back:   
Dear Michael, 


My first reaction to the ads is that either the jury was incompetent, or creativity in print is dead - which I don't think so. 


There's nothing new or creative in the Coke poster. Good to know it was made by a student: it's a good student work!

Benetton is even worse, trying to do a pastiche of Toscani's work. Toscani was raising social issues by using striking images. When he showed a nun kissing a priest, he was questioning the celibacy of the clergy. Unhate does not mean that two presidents have to kiss on the mouth like in the good old days of the Soviet Union! And the photograph is very ordinary! 


I don't understand! 


Best regards 
Alain 
Image: Encyclopédie de l'Affiche by Alan Weill. Hazan (2011)