British designer Vivienne Westwood gets a standing ovation when she went off the script and Professor Richard Dawkins introduces Saatchi & Saatchi's New Directors' Showcase. Our web editor, Rhia Chohan, talks about the highlights of Cannes Lions 2013. 
CANNES - Not too long ago, our editor-in-chief Michael Weinzettl wrote about the punk aesthetics of advertising, where he mentioned Vivienne Westwood, who was snubbed in an interview at the Met Gala when speaking out about Bradley Manning.
On Tuesday, the veteran fashion designer took the stage at Cannes Lions alongside Gaston Legorburu, Worldwide Chief Creative Officer of interactive agency, SapientNitro - and this time there was no one to cut her off. 
In the seminar, entitled "Stories are more than a narrative. And fashion is more than design," the anti-establishment figure and inventor of the anarchist symbol talked about questioning her values.
"I've changed my stance 180 degrees, because you need ideas to be subversive".
"I got bored of punk rock. Because in the end, I felt I was the only anarchist amongst people that just wanted a good time." Earning some laughs from delegates, she added that at the time, punk rock had just become a marketing thing. "To sell safety pins or something".
"I think there is pressure on people today to not get absorbed in things," she said. "Talent is much, much rarer than people think. It's this idea of being creative and people who are in the business of trying to sell things always want to know what is it; what is the secret of being creative? You've either got it or you haven't. But definitely there is pressure to not cultivate your deep interest and just be distracted."
Not afraid to say her piece, she went on to suggest that the global ethos was why "politics can never progress", because it's "about cultivation and pandering to the ordinary", as well as encouraging delegates to question "a rotten financial system".
 
When Legorburu tried to get her back to the scheduled discussion, there were faint murmurs and tutting in the theatre (at least from where I was sitting); the audience wanted more. She apologised for going over the time, asking if it was okay to go on - to which the delegates enthusiastically replied, in unison: "yes!"
"We're dangerously short of culture," she said as well as expressing the need to generate universal ideas of the human genius which we can develop, encouraging them to visit art galleries, not just read the best-sellers, fighting for a cause whether big or local. "Listen to your best self."
Highlights in pictures
"I don't think of it as advertising" - Annie Liebovitz on the Disney Dream Series in McGarrybowen's talk.
Nine-year-old YouTube sensation, "Kid President" says adults would be less boring if they would "stop playing bingo" at the JWT "Meet the Parents" seminar.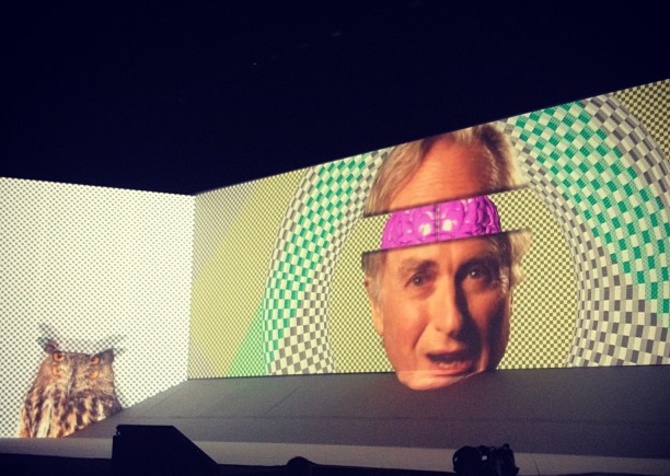 Professor Richard Dawkins' speech is hijacked with pychedellic projections, an ode to the internet's influence on popular culture and the "meme"/via @hewhosayshmm
Image: Vivienne West and Gastonlegorburu/Rhia Chohan

A t-shirt with the slogan "Get a Life" accompanied her signature fiery red hair. "When I say 'get a life' I mean 'Who are you? What is your place in the world?'" she said, culminating the seminar. Did she stick to the script? No. Were her words inspiring? A cheering standing ovation from the Grand Audi says yes.
Another controversial Brit kicked off yesterday's New Directors' Showcase, the queue for which was winding back on itself.
Professor Richard Dawkins, evolutionary biologist and author of The Selfish Gene and The God Delusion, introduced the "Just for Hits" show with a scientific reading on evolution, genetics and memetics, describing how his word "meme" has been hijacked by the internet.

And indeed the hijacking continued, this time of his speech. Owls shooting lasers out of their eyes at a projection of Dawkins' head before his brain coming out featured in the psychedelic animation, which was an ode to the power of the internet and its influence on popular culture. 
A Cannes Lions highlight, each year is a reel of carefully selected new directing talent. Of the ads that included were Leica's "Monochrome" spot, which featured in Archive (Vol. 2/2013) and Agent Provocateur's "Soirée: Fleur du Mal", which also made an appearance all the way back in Vol.1/2012. 
Notable directors who have appeared in past Showcases and gone onto enjoy stellar careers include; Chris Cunningham, Jonathan Glazer, Michel Gondry, Spike Jonze.
Look out for Monday's Audiovisual feature for a round-up of all the ads to feature in the NDS.
And catch up with our coverage from Cannes on our social channels; Facebook, Pinterest and Instagram. We've got everything from pandas to P Diddy.
Sean "P Diddy" Combs joins Translator founder and CEO Steve Stoute to pitch Revolt TV and tell advertisers how to be "cool".
Astro Teller describes the "ah ha" moment, be that technical or scientific, that make Google X's moonshots, like Google Glass, a reality.
Lou Reed talks about the warmth of analogue and the genius of Kanye West before doing a reading of Edgar Allan Poe's "The Raven".
Images: Rhia Chohan/Luerzer's Archive