Earlier this week the winners in the Press and Outdoor section at Cannes were announced and obviously these are the ones that interest us most here at Archive.
As every year, a lot of the Lions (Gold, Silver and Bronze) were awarded to work that faithful readers of our publication have seen here first. 
The Grand Prix in Press went to "Dog", "Baby", "Squirrel" and "Moths", a campaign for the City of Buenos Aires by The Community/La Communidad Miami, which we featured in the current issue, Vol. 3-15, and although it's an excellent campaign beautifully executed, the reason why this campaign won over the other Gold Lion winners is to me a bit inscrutable – but that's not unusual with regard to the Grand Prix.
One can only guess at the considerations – aesthetical as well as political  – that might have gone into the final decision. The official statement by Jury President Pablo del Campo, Worldwide Creative Director, Saatchi & Saatchi, Argentina does, however, did offer at least some explanation. He said that the jury had seen many entries which had "brought light" to the category, but the Grand Prix stood out for its freshness, originality and, ultimately, creative bravery.
"There were other great ideas that we loved, but we thought that this one was the most challenging and farthest away from the comfort zone." 
Some of the awarded campaigns were too new to have made it into the current issue of Lürzer's Archive, i.e. had not come out at the time of the deadline for Vol. 3-15. Some implications of that I have addressed in my previous blog, so let me just present my personal favourite ones among the winners in the Press and Outdoor categories, that have not been featured so far but will be included in the upcoming Vol. 4-15, to be published in mid-August. 
Among the Bronze winners in Outdoor there was this campaign for Duracell batteries by Grey London which I like and hadn't seen before:  
A Gold and two Silver Lions went to this campaign for the Honda Accord with GPS by Impact Echo & BBDO, Kuwait. 
One campaign for Tekbonds Super Cola glue which won a Bronze Lion in Press and a Silver Lion in Outdoor caught my attention because the idea seemed so familiar.
I went to our Online Archive and soon discovered the same idea done with a dose of wry humour –if arguably less accomplished in terms of art-direction – in Vol. 6-2009 for Pattex brand glue by Slovenian agency Imelda Ogilvy & Mather. 
It seemed to me that a lot of the Gold and Silver Lion winners were campaigns from the Social & Environment category, the most striking of them to me this one from Ogilvy & Mather London with the headline "Female genital mutilation doesn't only happen in far away places," which won a Gold in Press and Outdoor and a Bronze in Outdoor.
A Silver Lion was awarded to this extraordinary Land Rover campaign by Y&R, New York.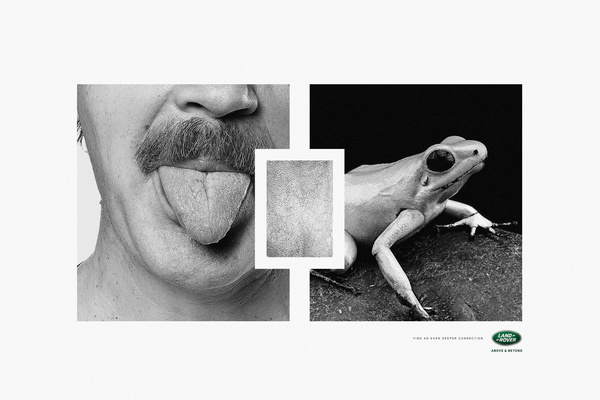 I also greatly enjoyed the Whiskas campaign from adam&eveDDB, London which was awarded Silver. 
Very nice too this French campaign for the new smart fortwo by CLM BBDO, Paris, which won a Gold Lion in Press.  
A Silver Lion in Press as well as a Bronze Lion in Outdoor went to this brilliantly minimalist campaign for DHL from Grey Worldwide India. 
The Outdoor Grand Prix went to the Apple's recent "Shot on iPhone 6" ad campaign by Grey New York featuring photos taken by actual iPhone users. 
In all, the campaign featured more than 10,000 installations in 73 cities in 25 countries. Apple called it "the largest mobile photography gallery in history."
The reason we haven't featured this campaign in the magazine so far is that they use the size available by outdoor in the most optimal way and you just don't get the grandiose effect they have when you see them on the street when you scale them down to fit our magazine's page format.
Still, as an acknowledgment of this certainly very beautiful campaign we'll have some of executions in our upcoming issue.
Visit our new shop and discover the finest campaigns from print, TV and digital: Subscribe now
You might also like: