Michael Weinzettl catches up with the talented creatives from Lowe agency, LOLA, Madrid.
One of the benefits of my job is that I can do it from pretty anywhere in the world as long as I have a good internet connection (and of course thanks to our great editorial and production team in Vienna as well as UK-based Sue and Rhia, who are in charge of Archive's online content!)
Which is why I'm able to write these lines from Madrid, one of my favourite cities, and one which I first discovered in the late 1980s when I just had to find out all about the place, featuring so prominently in the films of Pedro Almovódar, that I had become such a fan of.
I've been working all week on the German issue of the magazine (which is basically the same as the international and Chinese editions and – as of quite recently – the Brazilian one, except for the paid advertising and, of course, the respective translations).
It is a lot of work – and sometimes I wonder if it's still worth the trouble. When we started 30 years ago English skills among creatives in Germany were so much lower than they are today, so perhaps it won't be necessary much longer to publish a German-language version of Lürzer's Archive, Archiv. We will see…
Francisco 'Pancho' Cassis talks Cannes Lions with Lürzer's Archive Editor-in-Chief, Michael Weinzettl
Antonio Bechtle of Milk, Vilnius, also happened to be in Madrid for five days and he introduced me to his fellow Peruvian, Gonzalo Figari, President of the d6 agency in Madrid and Sevilla, about whose amazing work for the Spain's History Channel I have written before.
I also did an interview with Francisco 'Pancho' Cassis, who for the past ten months has been ECD of LOLA, one of the best young agencies in Europe working on global accounts, and a major winner at this year's Cannes festival (most prominently perhaps the Gold Lion for the Magnum "Transvestites" spot).
To be honest, I always found the name LOLA a bit weird for an agency. For me as a film buff the name invoked Marlene Dietrich's character in "The Blue Angel" or Max Ophüls' final and long-neglected masterpiece from 1955, "Lola Montès" (based on the life of the celebrated Irish dancer and courtesan/mistress of King Ludwig I of Bavaria). And of course, if possibly not quite on the same level, the 1998 German box-office smash hit "Run Lola Run" by Tom Tykwer.

Pancho originally hails from Chile and worked at Tropa Grey and Leo Burnett Chile before joining Vitruvio Leo Burnett Madrid in 2004. He revealed the agency's name is in fact the – very logical, really – abbreviation of LOwe LAtino. The interview with the well-spoken and charming guy, whose work we've been featuring in the magazine since back in 2003, will appear in Vol. 5/2015 of Archive (to be published at the end of September).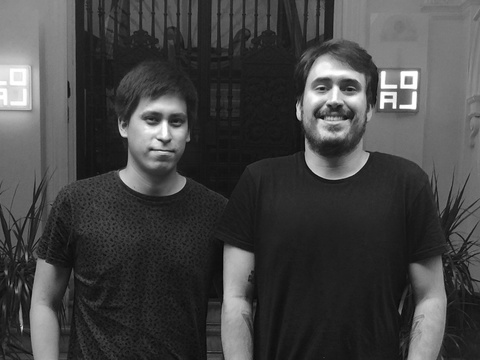 André Toledo and Lucas Reis
I also met with yet some more amazing Latino creatives from LOLA: possibly the most successful team of young creatives working in Europe, namely 24-year old Peruvian copywriter André Toledo and his art director partner 28-year-old Lucas Reis, who arrived from his native Brazil in February this year.
They're part of the team behind the Scrabble "Anagram Lovers" TV and press campaign which was awarded one Bronze Lion for Film, a Silver Lion for Press, as well as a Silver Lion for a Kiss FM radio commercial. Not bad for a five-month partnership!
Each of them, individually, is no stranger to Cannes accolades either: Andre won his first Bronze Lion at the age of 23 while still at Y&R Lima for the Movistar "Connected with Peru" commercial and Lucas was awarded three Bronze Lions in Direct, Design and Branded at last year's Cannes festival for The BBQ Bible.

With guys like that, the future of advertising looks very bright indeed.
League Against Cancer by Y&R, Lima

Líbero"Football vs Alzheimer" by LOLA, Madrid
24 July 2015
Visit our new shop and discover the finest campaigns from print, TV and digital: Subscribe now
You might also like: