Lürzer's Archive fans vote for Sancho BBDO's "meaty splash" to feature on the next cover – making it the first ever Colombian ad to front the magazine. Michael Weinzettl talks to the creative team behind the campaign.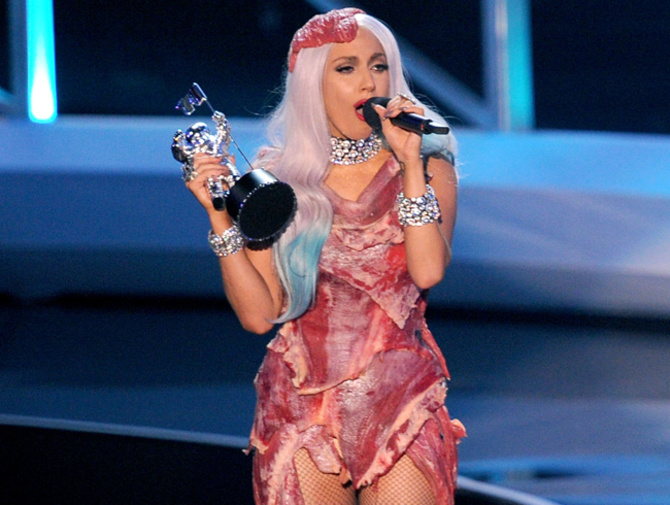 It was really as an afterthought that I added the image of the glass with the steak-like water splash to the other three cover alternatives for the next issue to be voted on. In the past we found that humans and animals were way more successful than inanimate objects.
Also, that particular cover option reminded me way too much of that infamous "meat dress" that Lady Gaga wore to the 2010 MTV Video Music Awards, or of an art object in general; something that a latter-day Joseph Beuys might have come up with, to win much of a popularity contest – or so I thought. But adding it as a fourth (if for me unlikely) option, I did.
As it turned out, the image, taken from a campaign for a Colombian supermarket-brand of water which comes in a special "odour-proof" bottle, got a stunning total of 4,781 Facebook 'Likes' and will thus be the cover of Vol. 4/2013. It won over the Pig, which was taken from a Sunlight detergent campaign by Lowe Bangkok by an excess of almost 1,000 votes.
In all, this year's first Facebook Cover Vote reached almost 246,000 users. A record-breaking 11,412 Facebook votes were cast, at the time of writing.
Just to put this into perspective for you: that is mammoth 78 per cent more voters than our Vol 4. /2012 Cover Vote, which was won by adam&eveDDB's infamous "Piss Lady" for the Harvey Nichols Summer Sale, and 74 per cent more voters than our Vol. 6/2012 Cover Vote – where DDB&Co Istanbul emerged victorious for their KTM "Challenger" ad.
Image: Sancho BBDO's Andrés Marantá, Juan C Gómez, Hugo Corredor, Giovanni Martinez, Freddy Ospina and Edwin Pineda.
Still marvelling at the numbers reached this time around, and especially the number of 'Likes' for the "meaty splash" image, I asked Andrés Maranta, creative director of Colombian agency Sancho BBDO, Bogota to tell me a little about the campaign.
"In Colombia, many people tend to buy water in a bag, or boil water and keep it in a jar in the fridge," Andrés told me.
"The water gets easily tainted with a diverse array of smells and tastes from other foodstuff the fridge. This is why the Éxito chain of supermarkets created a bottle that has seven layers to protect the water's taste while in the fridge, and our mission was to launch this.
Visit our new shop and discover the finest campaigns from print, TV and digital: Subscribe now 
You might like: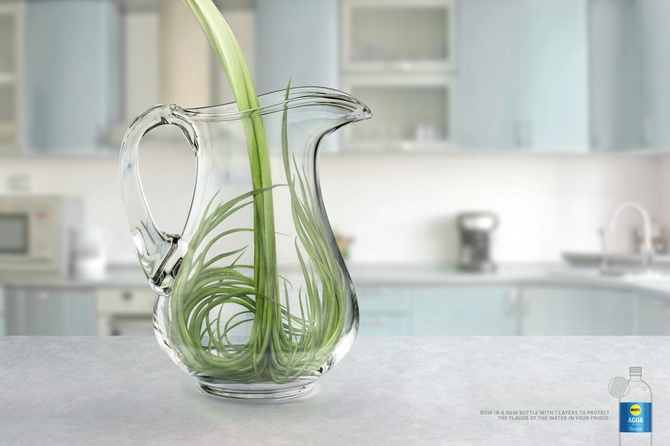 Image: Another print from the Éxito water campaign by Sancho BBDO
"After reviewing many ideas, we came to a simple one: We wanted to give the consumer an idea of what the water might taste like if left in the fridge unprotected by the kind of bottle Éxito water comes in. The challenge then was to execute this idea in the best possible way.
Colombian producer, Claudia Guerra, contacted the Sancho BBDO team, hooking them up with Platinum MDF.
"They are one of the best digital retouching studios in the world and they loved the idea," explains Andrés.
"We got to work immediately. Details and adjustments went back and forth, and we finally managed to achieve the 'visual smell' that we were looking for each ad. The end result has had such a great impact; the client, public and internet absolutely loved it.
The agency decided to enter the campaign at this year's Cannes Lions Festival, winning a Silver Lion.
"A week later we saw the ad on the Lürzer's Archive Facebook page alongside three other visually stunning images from campaigns nominated to be on the next cover.
"Of course we were even more thrilled when you told us that this was the very first image ever from a Colombian agency to make it onto the cover of Archive magazine in its 29 year history."
Read more about the runners-up here.