We have revamped our website and it has some great new features. Michael Weinzettl divulges some of the shiny, new functions for you to explore.
Like and share work via social media
Almost three and a half years ago we went online with a brand new website with a homepage that gives you daily features in Audiovisual, Campaigns, Who's Who, Digital and of course, my Editor's Blog.
The original design was from the formidable Fernanda Romano and her team in Sao Paulo, who also  re-designed our online archive. Our ad archive has in its original form been online since 2000 and with its 50,000 print ads and 10,000 commercials featured in Lürzer's Archive over its now 30-year history was by then in dire need of being overhauled.
We're please to tell you that from now on you'll be able to see a completely revamped homepage and Online Archive and I'm going to tell you a bit about the advantages it has over the old system.

It has become a whole lot easier to submit work to our publications, be it the magazine or our 200 Best Specials (the next one is going to be 200 Best Digital Artists and scheduled to appear along with Vol. 6/2014 in early December).

Gone are the times when a photographer such as Chico Audi had to upload one by one the 130 images he wanted to be considered for our 200 Best Photographers book. From now on several images/videos can be uploaded at once, even in hi-res. It is no longer necessary to enter creative credits for each image individually. Provided that the credits apply to all of the images/videos you want to upload you just do it once.

Under the heading My Archive you will be able to check on all your submissions, see what their status is, whether any info might be missing. If work is published it will automatically move to the user's My Archive section. There you can then see all your work that has ever been published in Lürzer's Archive magazine or in one of our Specials.
View back issues of Lürzer's Archive

Beyond Archive offers you the possibility to upload work of yours that has not been featured in Archive or any other of your projects you would like to share with the website's users. Under My Favorites all users (not only those who submitted for or had something published in our publications) can mark what they personally find outstanding or worth remembering.
There's also a great Search facility. At one glance you can see the results of your search divided into Print, Videos and Digital and even Features (I just know you're going to enter your own name when you first try it out... I know I would.)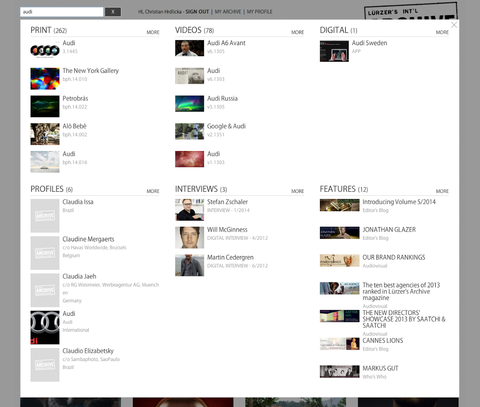 The new Advanced Search function offers you a plethora of possibilities to find exactly what you want: whether you search by time span, product, brand, product group, creative credits, etc. You can also get your search results listed according to priority, i.e. chronologically, alphabetically, by Likes and Views.
One of the most important new features is that now you can look not just at the current issue of the magazine but at all of them.

The new Rankings show portraits of the creatives or logos (in the case CGI studios/film production companies). For that we kindly ask those whose work has been featured in our publication to upload (or if necessary update) their photos in the My Profile feature.


There is of course plenty more to say about our new website, for e.g. that of course you can now Like, Share, Tweet, even comment on all your favourite ad work and Features, but since this is hardly the place for a comprehensive manual, I suggest you just go there and try it out yourselves – have fun!
31 October 2014
Visit our new shop and discover the finest campaigns from print, TV and digital: Subscribe now
You might like: