Which countries do beer advertising best? Michael Weinzettl takes a look at how the popular beverage has been sold to consumers around the world.
DLKW Lowe, London. Archive Vol. 4/1988
The Oktoberfest and Munich will be in the focus of the October issue of Pubblicita Italia to which I contribute a monthly column. I took the column as an opportunity to look at beer advertising from around the world as it featured – or more prominently did not feature – in the pages of Archive magazine.
The thing that may surprise you the most is that unlike the humorous beer advertising around the rest of the world, beer advertising in Germany (for many the "homeland" of beer) is by no means a laughing matter. It is a highly serious affair instead.

Apparently, the majority of German consumers won't stand for frivolity when it comes the their favourite national beverage. (Or is it misguided clients? A bit of a chicken and egg conundrum I suppose.)
Some of this may have to do with the already terribly serious-sounding "Reinheitsgebot." The term, which translates as purity law, is the oldest rule governing food and drink in the world that is still valid today.
It was adopted by the Bavarian Duke Wilhelm IV in 1516 and it states that beer may be brewed exclusively from barley, hops and water. Of course I don't know if this is the only reason why German beer advertising for the most part is complete and utterly devoid of any kind of humour but it just happens to be the case. Weirdly enough, there is even a widely used German adjective: "bierernst" translates literally as "beer-serious" and refers to a particularly dire approach to whatever the subject may be.

The tone German beer advertising generally adopts is one of reverence, solemnity, even pompousness: I remember one German beer commercial in particular: it was for the Krombacher brand of Pils  and, quite unironically, used the famous fanfare from "Thus spoke Zarathustra" by Richard Strauss as its soundtrack - the one a lot of you will remember from Stanley Kubrick's "2001: A Space Odyssey" (1968). The camera slowly zooms in on a giant glass of beer, complete with a beautiful head of foam and drops of distillation on the glass. You really can't get any more reverential than that.
Carlton Mid brand beer by Clemenger BBDO, Melbourne, Australia Vol. 3/2012

Although there may be the occasional attempt at a humorous take – and there seems to be a north/south divide with the tone of Bavarian beer ads perhaps being a bit lighter in tone than northern ones – it remains to this day more of an exception than the rule, and not surprisingly, often feels forced and, well, unfunny.
One of the few successful attempts of German beer advertising playing the humour card that I can really think of at the moment is a print campaign by Hamburg agency Philipp & Keuntje for Astra Beer (featured back in Vol. 6/2003 and Vol. 5/2006 of Archive). However, the fact is the brand was quite low-market to begin with and the creatives in fact use its proletarian – even sub-proletarian – heritage as a selling point.
"The beer was great" and "And the pergola is complete". Tagline: "You got a problem with that?"
Of course, if we want great beer advertising, it is the UK and the US that we have to turn to in the first place. I think no other ad industry in the world has created as many classic beer ads as the Brits and Americans have.
This 1999 Budweiser spot took the Cannes Grand Prix. The commercial was based on a short film, entitled "True", written and directed by Charles Stone III. "Wassup" became a widely mimicked and parodied pop culture phenomenon. 
"Not everything in black and white makes sense," was the theme of this black and white spot for Guinness in 1996. "Bicycle" confronts us with the old feminist motto: "a woman needs man like a fish needs a bicycle." Set to the sound of "I'm gonna wash that man right outa my hair" from the Broadway musical, South Pacific.
And they go from funny (remember the famous long-running Heineken "The beer that refreshes the parts other beer can't reach") to epic and impressive: think Stella Artois, and, of course, Guinness, which has a glorious history of grand, award-winning commercials that date back many decades, long before 1997 when AMV BBDO London got hold of the account.
Sometimes at advertising festivals I have even thought that British beer advertising should be a category in itself as there used to be tons and tons of entertaining beer ads around every year - although this has become less, no doubt because of the various restrictions imposed on advertising alcohol in general.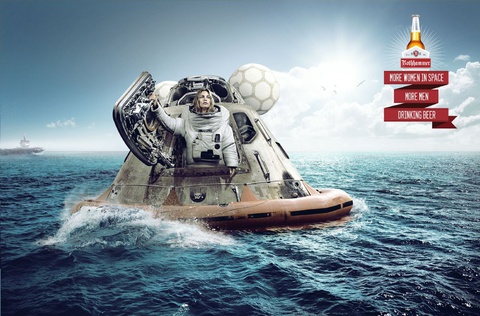 "More women in space, more men drinking beer" by Prolam/Y&R, Santiago, Chile Vol. 3/2013
17 October 2014
Visit our new shop and discover the finest campaigns from print, TV and digital: Subscribe now 
You might like: