Find out which country topped the rankings in the latest issue. Plus interviews with Marcos Medeiros and Nils Leonard. Michael Weinzettl introduces Lürzer's Archive Volume 2/2015.
New Beetle. Design on the outside. Fun on the inside. 2.0L engine. 210 horsepower. 23 city mpg. By Publicidad Causa, Lima
Vol. 2/2015 of Lürzer's Archive is out now and it is chock-full of amazing print campaigns. A total of 123 that is - a number we rarely reach. Just to compare, the previous issue, Vol. 1/2015 featured 99 print campaigns in all.
Now I'm not wont to confuse quantity with quality, the way most ad websites that simply let anyone upload their work without any discernible filter do. It still is only an incredible seven percent of all submissions we receive over a three-month period that finally do make it into the magazine. I suppose there is so much great work out there – and inside our new issue – because the entry deadline for Cannes has been looming. Or to put it differently, lot of the work you'll find in our new issue is bound to make a splash in June too.
No is the new Yes. Campaign for the children's fashion label Max & Lola. By Silver & Copper, Brussels
The countries leading the 29 nations' work to be found in the Print section, are the UK (with a total of 16) and the US (15). Brazil is right behind them with 14 campaigns, followed by Germany with 9, and then – something of a feat – Israel with 8 campaigns; yet further testimony to the top-quality work being done there in recent years (Gideon Amichay, now based in New York, but from 1994 to 2011 CCO & Joint Managing Partner at Shalmor Avnon Amichay/Y&R, Tel Aviv must surely be credited with playing a key role in the rise of Israeli advertising creativity.)
Campaign for Sapir College in Israel by McCann Erickson, Tel Aviv
There is, once again, plenty of Latin American work, this time from Colombia (5), Peru (4), and Costa Rica (2). One of these ads from Costa Rica is from Garnier BBDO, San José and also graces the cover of this very issue – which is a first for this country in the history of Archive.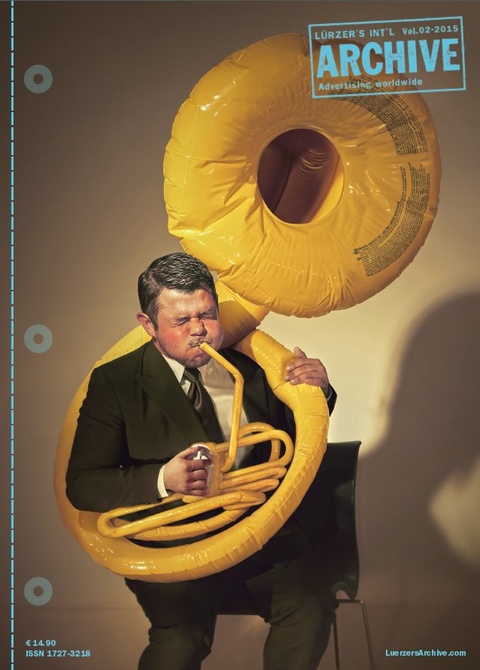 As for film, you will find a total of 64 commercials (TV as well as online) in this issue, with the US coming out on top with a stunning 28, no doubt since this issue also showcases the cream of the crop from this year's Super Bowl commercials. The UK is featured with ten films, followed - at quite a distance - by Canada and France, each with three.
Nils Leonard, Chairman and CCO of Grey London is featured in the interview, bearing the title "Agencies are shit at trust," that I conducted with him late last year at Grey's offices. Nils is a key figure in what must be considered one of the ad world's most intriguing - and unlikely - success stories of the past five years.
He has completely transformed an old-fashioned agency, part of the Grey Group (which itself has been around for 98 years), the kind often referred to in the ad world as a dinosaur: big, slow – and producing very little work of interest to the readership of this magazine.
That has all changed now: Nils has overseen the most creatively awarded years in Grey London's 52-year history, managing to engineer a complete turnaround in the agency culture. Over the last five years, Grey London has also doubled in size – the headcount currently stands at 420 - and received numerous accolades, including Adweek's Global Agency of the Year 2013, and a Cannes Black Lion in 2011 for creative effectiveness for its globally acclaimed work for The British Heart Foundation.
The creative who selected the Digital works featured this issue is also a creative heavyweight. His name: Marcos Medeiros, Partner and Chief Creative Officer at Crispin Porter + Bogusky Brazil. That agency, the Brazilian branch of which has been around since February of 2014, is of course one of the most awarded in the world. Prior to that, Marcos worked at AlmapBBDO for eight years.
Marcos was awarded the Press Grand Prix at the Cannes Festival for the Billboard magazine campaign. Type his name into the Search field on top of this page and be stunned at the sheer number of world-class campaigns he has been involved in during the past decade.
I hope you will, as always, find inspiration for your own work in our new issue.
10 April 2015 
Visit our new shop and discover the finest campaigns from print, TV and digital: Subscribe now
You might like: