The penultimate issue of Lürzer's Archive magazine for this year is out now. Michael Weinzettl gives you an overview of what to expect.
As for print, you will find a total of 101 campaigns featured, and – once again – it's Brazilian agencies that come out strongest. Among them of course the campaign that the cover of this issue is taken from, by PPM, Sao Paulo, for the Tendall Grill chain of steakhouses, as well as what had been my personal runner-up from the cover vote, namely a campaign for the 19th Jewish Film Festival in Sao Paulo by Agencia Africa. In all, Brazil is represented by 25 campaigns, while the US comes in in second place with 14.
This is not a number to scoff at. I feel the need the point this out as I've heard that there has been some whining and carrying on from the part of US ad scene (mostly from reps and PR folks, I guess) about not getting featured enough in Archive. Obviously, whoever subscribes to that notion does not pick up our magazine regularly enough.
The UK, strong as usual, and never one to complain, is in third place with nine campaigns, followed by – with a surprisingly strong showing this time – Turkey. In fact Turkish advertising is represented by eight campaigns, the same number as Germany. Special mention goes to the one of the two print campaigns in this issue from Cairo agency Kairo. They have produced some beautiful ads for the Beanos brand of coffees (their version of Starbuck's I suppose), featuring typical Egyptian morning wishes written in moder Arab calligraphy – apparently challenging to read if you're not fully awake.
In Film – the total number being 54 – the US once more takes the lead with 19 commercial campaigns (hear that United States!) and the UK with 15 (among them a commercial that, I can assure you, will do very well indeed in the awards season to come. I'm talking about the "Tiny Dancer" spot for John Lewis home insurance, something that has gotten the kind of attention and acclaim usually reserved for the John Lewis chain of retailers' Christmas commercials by the same agency, adam&eveddb, London.
Then there is quite a gap: Canada, Australia, France and Israel are all represented by two commercial campaigns, the other ten countries (among them, again, Egypt and Japan) weigh in with one film campaign each. And all of them are definitely worth checking out, I'm sure there are plenty more contenders for awards among them.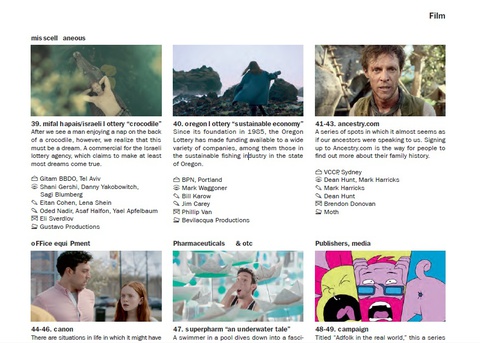 The Digital section in Vol. 5/2015 comprises of 14 campaigns that were selected by Dan Wright, Creative Director at Colenso BBDO, in Auckland. Among them is also the homepage of New York agency Sagmeister & Walsh.
"I've always been a bit jealous of Stefan Sagmeister," Dan explains. "Looking from the outside, it appears they have all the professional backbone we'd all love to have in our own work. The reality for most of us is usually less black-and-white, but it's exciting to be given a live-view into their small-but-presumably-perfectly-formed office. That, and the work, is always inspiring."
The interview I did with Dan Wright is titled "Television as we knew it is as good as over" and you can read it in the magazine right before he presents his selection of digital goodies.
Finally, the interview at the beginning of this issue is one I conducted in late July in Madrid with Francisco "Pancho" Cassis, Executive Creative Director of arguably Spain's coolest agency LOLA (short for Lowe Latina). Not only were they Spain's most awarded agency in 2014, they were one of the major winners at this year's Cannes festival, winning amongst others Gold, Silver and Bronze Lions for their work for Magnum and Scrabble respectively.
I hope you will enjoy the package of what I think are "must-know ads" picked for you in Vol. 5/2015.
2 October 2015
Shop our print magazine and 200 Best book series to discover the finest in visual, TV and digital advertising: Subscribe now
You might like: