"Fashion advertising is a story to itself as it aims to sell a lot more than just a commodity, but a whole world of fantasy" – Michael Weinzettl on high-profile style brands using older women in campaigns.
It was an odd sensation for me to see, over the past couple of weeks, two of the artists I admire most appear only two days apart in a couple of fashion ads. There was luxury fashion brand Céline's Spring 2015 campaign which features the much-revered 80-year old writer and intellectual Joan Didion photographed by Juergen Teller. (New York Magazine's fashion blog "In the Cut" reported under the hilarious headline "Céline casts Didion, Women's Brains Explode.")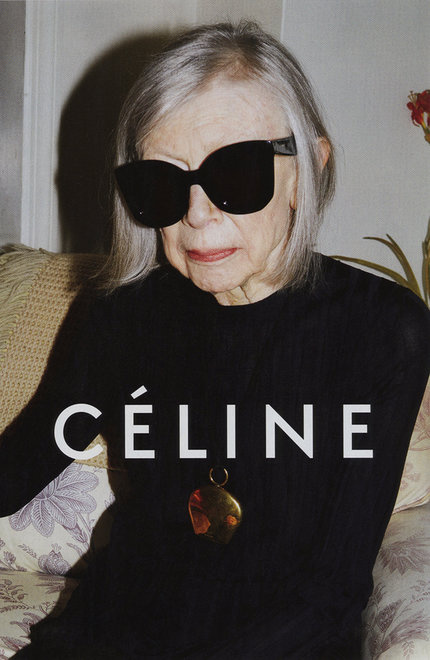 Didion may not be as well-known outside the English-speaking world, perhaps because of the unique tonality, the spare, elegant prose in which she crafts her novels – "Play It As It Lays" (1970), "A Book of Common Prayer" (1977),  "The Last Thing He Wanted" (1996), just to name a few – and seminal collections of essays such as "Slouching Towards Bethlehem" (1968), or "The White Album" (1979). 
On an international level, she's probably best-known for her last two books, 2005's "The Year of Magical Thinking," and 2011's "Blue Nights," both memoirs of loss – her husband, fellow writer John Gregory Dunne died in 2003; her daughter Quintana two years later – which have been bestsellers and turned into theatre productions starring Vanessa Redgrave and may have popularised her brilliant work with a wider audience.
At any rate, the degree of reverence Didion is held in can be seen in the fact that when her nephew, actor and film-maker Griffin Dunne, instigated a Kickstarter project in order to finance a documentary about Didion, it reached its goal in a single day, then took in more than twice the funding it sought.
The other icon that got featured in a fashion campaign is of course 71-year old Joni Mitchell. Little needs to be said about Mitchell whose bold commercialisation-defying career turns I have been watching with awe for forty years now. She appears as the "face of the January 2015 instalment" of fashion house Yves Saint Laurent's ongoing Music Project ad campaign.
The ad was photographed by Hedi Slimane, the former chief designer of Dior Homme and for the past two years the creative head in charge of Yves Saint Laurent. The photos – which I personally find a bit clichéd – show Joni wearing a wide-brimmed fedora and a "folk tunic" - both from Yves Saint Laurent, as well as a leather cape that Slimane made for her.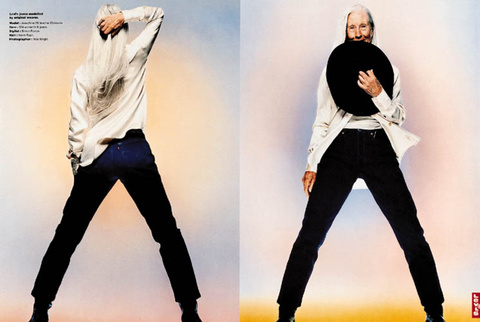 Archive Vol. 5/1996
Another Céline ad (right) clearly references a photograph taken of the chic Joan Didion in her Stingray back in 1970.
There is of course nothing new about using older women in fashion advertising. Didion herself appeared in a Gap campaign together with her late daughter Quintana in the 1990s. There are several examples of fashion brands using older women for their advertising, e.g. the outstanding Levi's campaign Nick Knight shot for BBH, London, in 1996. Or even, again for Levi's in 1988: literary icons – albeit all male  – having "style moments" in advertising.
Archive Vol. 3/1988
But looking at the dates of these campaigns, I do realise that it's been quite a while since older women in particular, have been featured in any high-profile fashion campaigns.
Fashion advertising, especially for luxury brands, is of course a story to itself as it aims to sell a lot more than just a commodity, but a whole world of fantasy. 'Why not tap into the nimbus of these revered older women,' Céline's creative Director Phoebe Philo and Hedi Slimane may have thought, 'and have it transferred on to our brand?' 
So far the gamble seems to have paid off if we consider the enormous positive response, not least of them one of feminist and anti-ageist triumph. As Arielle Dachille points out on Bustle.com:
"In persona and personality, Mitchell and Didion represent the antithesis of fashion's favourite faces...  Joan, 80, and Joni, 71, are independent spirits, badass ladies who create art that ferries young women through periods of self-discovery, offering an alternative to being objects of sexual desire. Furthermore, casting two women in their 70s and 80s seems unconventional and refreshingly progressive for a business that subsists on the commodity of youth."
"...beyond being white, thin, rich, and famous, they're seasoned cool girls – subjects of rampant crushing from the Millennial set. They're poster-women for the poetic souls and feminists."
"Consequently, the target demographic is comprised partly of girls who are, likely, critical of the luxury rag trade, with its sizeist hegemony, white privilege, classism, and general problematic nature."
However, she warns: "this 'golden girl crush' marketing trend seems to be another move in which feminism runs the risk of being domesticated by the forces it fundamentally opposes - capitalism, the patriarchy, white privilege."
How do you see this trend in advertising?
23 January 2015
Visit our new shop and discover the finest campaigns from print, TV and digital: Subscribe now
You might like: