Michael Weinzettl talks Chinese advertising and its relationship with Lürzer's Archive magazine - from a pick of the best ads to counterfeit editions.
Lürzer's Archive has been publishing a Chinese edition, more or less continuously, since 1996. During the first years it was printed in Germany with all translations provided by us, or rather, our Taiwan correspondent Jaqueline Lai, who would spend a lot of time and efforts heaving my texts (as in the interviews or the New Books section) into what I recall being Mandarin.
I do remember, however, spending hours on the phone explaining things to her that as a result of the different cultural background she struggled with. Particularly strong is my memory of trying to relate to her the concept of "camp" (I don't mean the outdoor activity involving tents and fires) which, at the time, she found not easy so grasp.
One odd thing about our Chinese edition back then was that occasionally a counterfeit version, an exact copy of Archive, with another name but the same content and layout used to appear in Chinese book shops. Often it hit the shelves earlier than our original, sometimes while ours was still at the printers - don't ask how they did it!

Meanwhile Archive has been licensed to a Chinese publisher, Designerbooks in Beijing, where, using our content of course, the magazine gets translated, printed and published, as well as distributed. As for the work from this huge market, we've been featuring ads from China since 2000 – not counting Hong Kong which is of course a different story, and print work from there that's featured in Archive dates back to 1988.
The very first one was a campaign done by Lowe, Beijing for something called the Beijing Administration Committee, counselling against an overly strict education for children. (Jacqueline Lai expressed doubts about the campaign's authenticity as she claimed as a result China's one child per family policy at the time, children in China tended to be overly pampered and spoilt anyway.)
Vol. 2/2001
Next came an - at the time - graphically impressive anti-smoking poster by the Chinese government and created by Bates 141, Beijing. Over the years we've featured campaigns from the country's massive capital, as well as Shanghai, Hong Kong and several more larger cities in mainland China. You can view them all out in our online Archive.
This week, I've selected some of my favourite Chinese ads work from recent years to give you an idea of what the creative output from there looks like - at its best of course. Naturally the work we feature in the pages is but a tiny percentage of the overall advertising output of China's ad industry - which, believe me, you don't want to see.
VW Beetle "Senior Rebels" by DDB Guoan, Beijing (Vol. 3/2012)
If you took a look at some of the credits of the work featured in this week's blog you would notice that there are lots of non-Chinese names among the creative directors. There's perhaps most famously UK creative Graham Fink who for the past four years has been Chief Creative Officer at Ogilvy & Mather China  after having been Executive Creative Director at M&C Saatchi in London.
Vol. 4/2012
It was under his creative guidance that in 2012 twenty-year-old Hong Kong design student Jonathan Mak Long won the Outdoor Grand Prix at Cannes for the Coke "Hands" poster. (About which my friend, poster expert and art critic, Alain Weill, tartly remarked: "It's students' work. GOOD students' work but students' work nonetheless.")
And of course Nils Andersson, who I had the pleasure to interview for Vol. 3/2008 when he was ECD of Ogilvy Greater China, and responsible for highly awarded work including the Motorola's iconic "RAZR Cut" campaign, among the various laurels China's first ever D&AD Yellow Pencil. In 2010 Nils moved to Y&R as CCO China, creating the launch campaign for GAP's entry into the market. Y&R Beijing won the most Lions of any agency in China at Cannes 2013.
Deep Cold "What the hell is pain" by Grey Worldwide, Quarry Bay, Hong Kong (Vol 3/2012)
China Advertising Association (CAA), Beijing by Dentsu, Shanghai (Vol. 1/2013): See you (in the afterlife), brother. – Environmental destruction severely impairs the balance of the ecosystem and therefore leads to the suicide of human beings. Public service campaign sponsored by the China Advertising Association.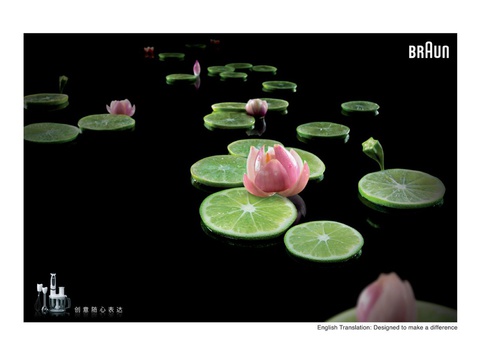 Braun "Designed to make a difference" by BBDO, Shanghai (Vol. 4/2011)
Maxam Toothpaste "Don't let germs settle down" by JWT, Shanghai (Vol. 4/2012)
China Environmental Protection Foundation "Industrial Pollution: Let the hills be hills and the rivers be rivers" by JWT, Shanghai (Vol. 2/2009)
Playtex "For difficult little people" by Grey, Beijing (Vol. 2/2013)
Whiskas by Publicis, Shanghai (Vol. 3/2002)
I'll let you draw your own conclusions from the fact that foreign names are still very much in evidence with creative advertising made in China, but given its relative short history it's not so very surprising and quite possibly just a normal phase, one that is similar to the one we have been observing with former Eastern Bloc countries such as Romania, Poland and of course Russia where nowadays there is a much higher percentage of native creatives having their work noticed and awarded in ad festivals around the world.
Click images to view full credits in our online archive.
14 August 2015
Visit our new shop and discover the finest campaigns from print, TV and digital: Subscribe now
You might like: