Michael Weinzettl revisits some of our animal-themed magazine covers. Plus the results of our most recent cover vote revealed.
It's time to reveal the results of the readers' poll from two weeks ago. We asked you to name your favourite from the four cover options for our upcoming issue, Volume. 5/2015.
Here are the results:
Tendall Grill "Regal Pig" - PPM, Sao Paulo 59% 
Mentos "Scarily Sour" - Ogilvy & Mather, Mumbai 23% ‪
Jewish Film Festival "Ninja" - Agencia Africa, Sao Paulo 11% 
Men at Work "Beard" - KesselsKramer, Amsterdam 8% ‪
To our delight the majority of the readers' votes went to the one option that we at Lürzer's Archive had already singled out as our favourite – the "Regal Pig" for Tendall Grill, a chain of steak houses in Brazil. The PPM agency in Sao Paulo who created it (with the help of the brilliant illustrator Sattu Rodrigues) was founded in 1997 and is in fact the in-house agency of the fast-food network, Habib's the largest network of Arabic food in the world. Habib's also own the Tendall chain of steakhouse acclaimed for their premium cuts (hence the headline "Royal Cuts").
Which means of course that the cover of our next issue will, once again, be graced by an animal. This made me think of all the animals featured in this prominent spot since Lürzer's Archive was first published in 1984.
I quickly found that dogs were clearly the leading species on view there. I counted a total number of eight dogs featured (though sometimes sharing the spotlight with a human or more animals). My two favourite dog covers must be these:
As you might be able to see, this is ad used for the cover of Vol. 3/1987 – actually the second issue of Archive magazine that I ever worked on – is from a famous campaign for Hush Puppies footwear by Fallon, Minneapolis (art director: Bob Barrie, copywriter: Jarl Olsen).
My other favourite canine cover arrived eight years later with this pretty specimen on Vol. 2/1995. It was from a campaign for a chain of dog groomers and also created in Minneapolis, this time by the Martin Williams agency; Wayne Thompson was the art director, Christopher Wilson the copywriter. The headline was: "Now Lenny gets to sniff that cute little poodle's butt anytime he wants." In fact, a few weeks after that issue's publication in the U.S. I received a thank-you note from Lenny himself for getting showcased on the cover. It was signed with an impression of his paw.
We've also had a couple of covers with frogs on them: Vol. 4/1997, from an ad for Gargoyles brand glasses (Headline: "Non-slip Gargoyles"), art directed and written by Tim Johnson of the Cowan agency, London, and Vol. 4/2008 from an ad for Jivanjor brand glue by Contract Advertising, New Delhi. Headline: " Nothing's stickier.") although with the latter I can't really tell if it really is a frog or a toad.
Then there's the famous koala sporting a winter coat on the cover of Vol. 5/2006 from a campaign for the "Extra Cold" Australian Castlemain XXXX beer – best served "Extra Cold." The agency was BBH, art director Paul Yull, copywriter Adi Birkenshaw, photographer James Day.
A mountain goat featured on the cover of Vol. 2/2005, from a brilliant campaign for the Land Rover Defender by RKCR/Y&R, London, art-directed by Jerry Hollens and Alex Bamford, copywriter Mark Bollens, and a stunning photo by Garry Simpson.
Crabs featured twice over the years, the first time in Vol. 1/1995 from a poster by Dentsu, Tokyo for Suntory Whisky (art director Shotaro Sakaguchi, copywriter Kenji Shiratsuchi, photographer Shintaro Shiratori) and the second time on Vol. 3/2003.
This was from an ad for the Julius Meinl, an up-market chain of Austrian supermarkets. The agency in charge was Demner, Merlicek & Bergmann, Vienna, art director Francesco Bestagno, copywriter Monika Prelec and photographer Joachim Haslinger.
And of course there were the seemingly innocent bunnies on the cover of Vol. 1/2007. The idyllic scene was cropped from an ad for Tulipan brand condoms titled "Spring Break." You catch the drift. (Agency: Y&R, Buenos Aires, art directors: Demian Veleda, Maximiliano Borrego, copywriter: Diego Gueler, and illustrator Daniel Romanos)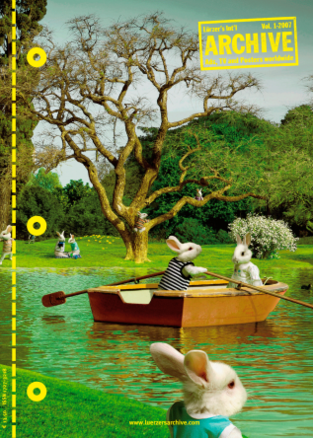 There have been of course lots of other animals on our covers over the years. Let us know which your favourite ones were. You can find the back issues here going as far back as 1989. There you can also see if a particular issue is still available or hopelessly sold out.
18 September 2015
Shop our print magazine and 200 Best book series to discover the finest in visual, TV and digital advertising: Subscribe now
You might like: