The who's who of creatives all in one room and how to get into Archive - Editor-in-Chief, Michael Weinzettl presents the highlights from our spectacular New York City event.
On Wednesday October 23, Christian Lürzer, CEO of Lürzer's Archive, and myself were in New York City to host the Lürzer's Archive Party to offer a preview of our new 200 Best Ad Photographers book - to be published in a few weeks along with our Vol. 6/2013.
It took place on the premises of the ADC New York in Chelsea – also where Archive's New York office is based.
The location was beautiful and spacious; images from the upcoming Photographers special were projected onto one of the white walls, and there was a huge banner with all the covers of the magazine dating back to 1984.
The event had been expertly organised by Lakpa Sherpa, our invaluable Marketing & Sales Manager for North America, and our US ad sales rep Angela Krass. Some 200 to 250 ad professionals showed up, the guest-list read like a who's who in advertising photography, as well as many reps and some ad creatives.
There was a DJ working the turntables and the talk among the guests proved to be so animated you really got the feeling of a get-together of kindred spirits from all over the world who really enjoyed being amongst themselves and having been given the chance to share and compare notes.
So much in fact that Christian and I decided not to interrupt the lively conviviality with the little speeches we had prepared for the occasion. Since some of the points I wanted to touch upon were general I thought I'd share excerpts of it with you here.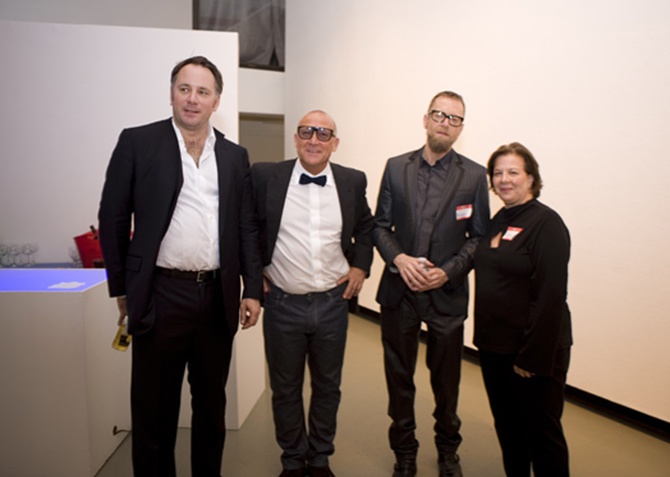 Image, left to right: Christian Lürzer, Hannes Tammé, Michael Weinzettl and Angela Krass
Christian had intended to introduce me with the words: "I know that a lot of you have one question on your mind: How the hell do I get into Archive?  I'm very happy that I don't have to answer these questions, because the campaign killer number one himself is here to answer this."
After this "killer" introduction I quickly wanted to express my hopes that all of those present had been featured with their work in our books at some point in the past 26 years - the time I have been with Archive. As I was to find out later, most of them luckily had.  
Quite a number of those present were in fact in the 200 Best Photographers book we had come together to preview. At any rate I was able to meet in the flesh and have some very stimulating chats with some of the photographers whose work I have been greatly admiring for years.
As for how to get into Archive, I was going to tell the assembled crowd that we use the same criteria for selecting work in Archive that all the creative awards festivals do: What we are looking foremost in a campaign is the originality of the idea, followed by the quality of the execution.
When I say originality of the idea, however, I always have to think of Sir John Hegarty's famous remarks at Cannes in the early 90s when judging the print entries: "If we are just looking for originality, we might just as well pack up and go home."
Years later, for our interview (Vol. 1/2008) John Hegarty told me that, rather for an elusive "original" idea, he was always looking for a "refreshing" of an idea , a new way to make an idea that might have been done before relevant and exciting for a new generation of targets.
This "refreshing" of course is mostly done by means of the execution. Which makes it very appropriate that we are here to offer a preview of how this refreshing is done - in this case by the photographers who bring their craft, their special vision to bear on that idea that is in need of refreshing.
The fact that we were having our preview in New York turned out to be a lucky coincidence as a whole third of the photographers selected with their work in this book were based in the US, a record – even though the US have always been on top of the list of countries represented in the Photography book. 
Image: Creatives gather at the Archive party at 106 West 29th Street
Image: An ad which will appear in our upcoming Special. Photographed by ShuHui Yang who attended the Archive NYC party.
See more pictures from the event below.
Discover the finest campaigns from print, TV and digital: Subscribe now | You might also like: A sneak peek of 200 Best Ad Photographers Worldwide.