Bet on what you think we'll pick as the cover and you could be in the chance of winning a year-long Lürzer's Archive subscription. Michael Weinzettl introduces the candidates.
Depending on where you're located, you'll be holding Vol. 3/15 of Lürzer's Archive in your hands between end of May and end of June.
The first ones to get the magazine are the subscribers in the European countries, whilst shipping the magazine to the USA takes about three weeks and China and Brazil print their own copies (the Chinese in their own language, for some time now already, the Brazilians soon in Portuguese), which why the Chinese and Brazilians are usually the last – but not least - ones to get our most recent issue.
Which is why it's high time to put the finishing touches on Vol. 3/2015 before it goes to the printers - and of course it's time again to select a cover. This time around, I think we'll decide this among ourselves but I still wanted to give you a chance to see the options we have for that cover.
When it comes to the cover I sometimes hear from people things like, "Oh I knew that you guys would put this image to be on the cover," and it usually makes me wonder whether we've really become that predictable?
To test this, I thought it would be a cool idea if – rather than vote on your favourite one – you made a bet on what you think will be the cover of the next issue. You can do that in the comments section of our Facebook post of this blog, and of course you can only place ONE bet. Among those who succeed in betting on the winner, we'll give out a one-year subscription to the magazine for free.
Here are the contenders: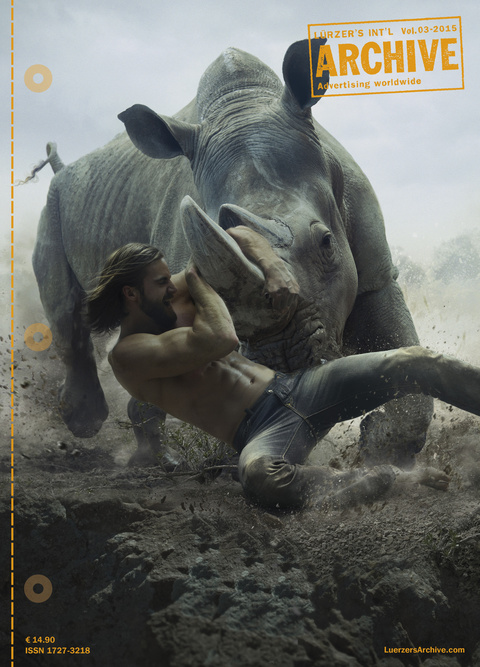 This dramatic one comes from Lowe SSPS, Bogota and advertises Arturo Calle brand jeans.
The second one is a variation on what was our Print Ad of the Week recently, this time with a teenage girl instead of an older woman. The agency is Havas Worldwide in Lisbon and the campaign for a toilet product comes with the tagline: "Cleanness you can trust."
Number three is taken from our current Print Ad of the Week, which comes from an agency called Feel Factory which hails from Novosibirsk, Russia – certainly a rare submission from there! The product advertised is the famous German digestif, Jägermeister, which translates literally as "Hunting Master" - thus explaining the ad's Sylvanian setting.
This year Coca-Cola of course celebrates the 100th anniversary of the shape of their bottle and we get lots of submission from various Coke agencies around the world that devote a campaign to this event. We particularly liked this one from Ogilvy & Mather, Paris and put it up as a suggestion for a cover.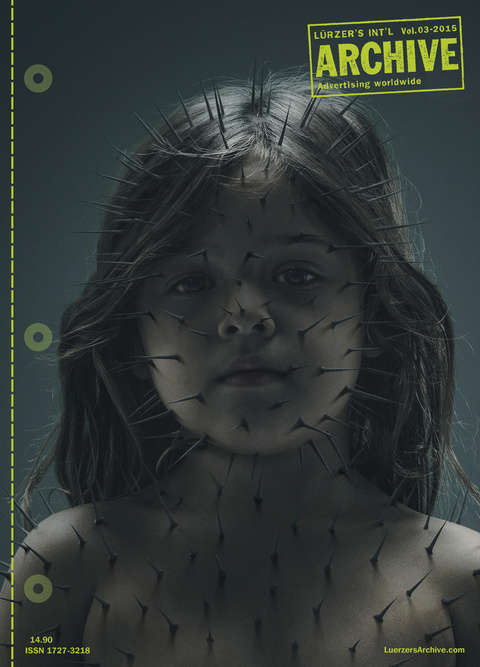 The next one, a very striking image, is from a campaign with the tagline "Abuse should hurt the abuser." The client is a Sistema para el Desarrollo Integral de la Familia (roughly translating to System for Integral Family Development) and comes from Publicis Mexico.
For Westerners, this cover option is somewhat cryptic - yet nonetheless arresting. It's from a Tokyo agency and comes with the headline "Gee, oh gee!!! Coffee grief… From now on create and store documents in the grief-free way." It's for the Adobe Document Cloud.
The final entry is from the UK and for an advertiser The Museum of Childhood, whose great ads and posters by AMV BBDO, London, have featured in Archive for many years now. Also a former Print Ad of the Week, AMV BBDO scoured the London borough of Tower Hamlets - where the Museum is based - to find interesting and unusual objects and spaces, and channelled a child-like imagination to reinterpret them. 
Now what do you think? Which one of these is most likely to end up on the cover of our next issue? Place your bets on Facebook.
1 May 2015
Visit our new shop and discover the finest campaigns from print, TV and digital: Subscribe now
You might like: