Welcome to the second round of our quest to find the perfect cover for our upcoming 200 Best Illustrators worldwide, due for release in August. Tell us your favourite.
The winner of the first round which was put up two weeks ago in this space is – clearly and overwhelmingly – the option featuring an illustration is by Romanian, Adrian Iota, for his client Spunk Tattoo Bucharest.
Of a total of 2185 votes a stunning 65% chose this as their favourite cover. The landslide came quite suddenly and unexpectedly early last week after the illustrator Mark Smith's portrait of Barack Obama from an article for the Harvard Kennedy School's magazine had been reigning supreme (with up to 75% of all votes) over the weekend.
What had happened? What had caused this sudden change of direction in the popular vote? Archive team member, Diana Dragomir, explained to me that the Romanian trade press and online media had covered the voting extensively and apparently made it into a matter of national pride for Romanian designers, art directors etc. to give their vote to their countryman's work.
Which means that the winner of this Friday's round will have to compete with Adrian Iota's bid for the cover spot when we present them to our distributors for their consideration.
After putting an illustration of Mao Tse Tung wearing a suit covered with Louis Vuitton logos on the cover of the 2009/10 volume, only to find out that the Chinese distributor simply refused to sell the book in his market (meaning we had to re-print part of the edition with a more politically innocuous image) we learned a lesson about ignoring their concerns.
So here are the four candidates for this second and final round:
Brian Stauffer illustration for a New York Times piece about why many have become distrustful of and disillusioned with the US government.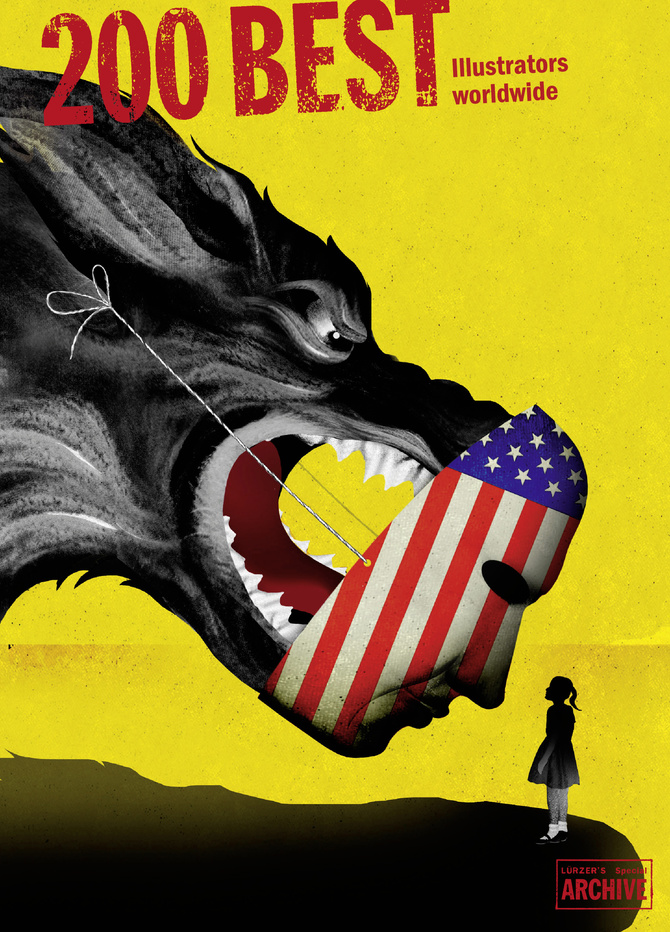 My personal favourite of the whole bunch so far presented – if possibly too high-brow to make the copies of 200 Best Illustrators fly off the shelves – is this wonderful illustration of French philosopher Jean-Paul Sartre by Spanish illustrator and painter David Pintor.
And, finally, a cover option by German illustrator Jörg Dommel that seems to be a riff on the very idea of a cover. I once learned that in Germany covers of weeklies that showed big busted women sold something like 20% more than if they showed men. If the women were blondes the percentage would rise even higher.


Vote for which one of this bunch you prefer. I'll let you know shortly which of them is going to grace the cover of 200 Best Illustrators Worldwide Vol. 2014/15.
4 July 2014
Visit our new shop and discover the finest campaigns from print, TV and digital: Subscribe now 
You might like: