The UK tops rankings and an interview with D&AD's current President – Michael Weinzettl reveals what to expect in Volume 5/2013 of Lürzer's Archive.
We unofficially dubbed our Vol. 4/2013 "The Latin-American Issue" with a total of 43 campaigns from the print section originating in a South American country.
In Vol. 5/2013, Latin America is again represented quite strongly, but only with half as many print campaigns as last time around. Out of a total of 86 showcased in this issue, Brazil has nine, Columbia three, Peru and Puerto Rico two each and Guatemala one – an excellent campaign for Super Bonder Glue with photography by Argentinian Ale Burset whose work is also central to four other campaigns featured (thus cementing the Number One position Ale holds in our Photographers' Ranking for the current year). 
Image: Super Bonder "Greek" photographed by Ale Burset for Ogilvy Guatemala
The single country with the highest number of print ads featured in Vol. 5/2013 is the UK. They are represented by 17 different campaigns, my personal favorite among them perhaps adam&eveDDB's "Love it. Hate it. Just Don't Forget it" posters for Marmite.
The UK reigns supreme in the Film section too with 18 out of a total of 65 commercials, followed by the US with 14 films and Germany with four. (Those already with a copy of Vol. 5 in their hands may turn to the Letter from the Publisher, and unfortunately, due to a failure in the system that spit out wrong information, find China in second place with six commercials. This is of course an error.)
In our Digital section, selected this time by Anrick Bregman from unit9, London, the USA comes out on top with five works.  As always, you can read an interview with the guest juror, who is not only interactive director at unit9 but also part of the arts collective, Tango & Hawaii.
Anrick creates commercial and experimental content for the browser and the smartphone, built on a dialogue between the viewer and the story.  
Among the digital works chosen by him for Volume 5, there is the gorgeous website for the National Museum in Amsterdam, the Rijksmuseum, which allows virtual visitors to take a close-up look at the museum's treasures.
Anrick also praises the work of Japanese design studio Tha: "I love everything they do, admire everything they touch," he says. "I would like to offer them my services as coffee-making intern."
As for some years now, as part of the partnership between Lürzer's Archive and D&AD, the main interview in Vol. 5 is devoted to their current President, which as of September 2013 is Laura Jordan Bambach, Creative Director at Dare, London, who follows in the mighty footsteps of design legend Neville Brody. 
Laura, whose very first job was oddly that of a taxidermist, cut her teeth as a key figure in Australia's 'Geekgirl' hyperzine in the early nineties, and has been involved ever since in the design and implementation of many of the world's most cutting-edge projects for top international brands. She has worked at a senior level at Deepend, Lateral, I-D Media London and Glue, before joining LBi in 2009.
I hope you will enjoy the new issue, which you can buy here.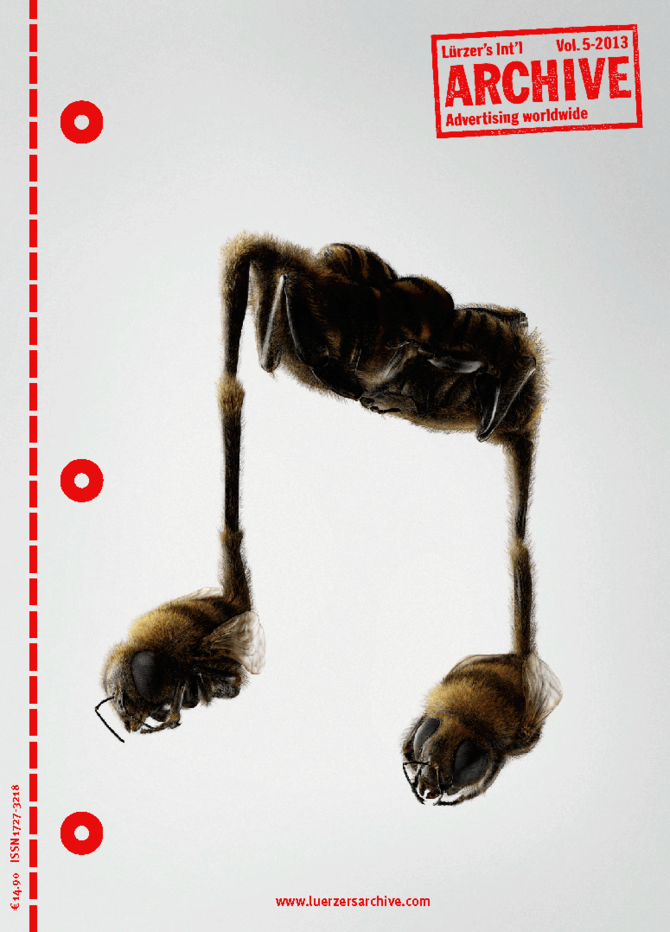 Discover the finest campaigns from print, TV and digital: Subscribe now | You might also like: The buzz about our next cover, as chosen by you.